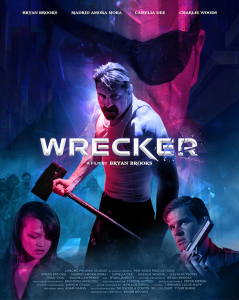 Bryan Brooks Utilizes Talent and Pure Grit to Compete With Large Studio Films This Summer Despite the Strikes and Controversies Plaguing Hollywood
The biggest challenge for independent filmmakers is coming up with original ideas that both entertain and connect with audience members, ideas that invite discussion on issues we believe are relevant."
— Bryan Brooks
SAN FRANCISCO, CALIFORNIA, UNITED STATES, August 11, 2023/EINPresswire.com/ — (Por favor, desplácese hacia abajo para la versión en español)
Impacting the entertainment industry, Bryan Brooks has created an unprecedented production. Playing the role of writer, director, producer, editor, special effects artist, set designer and protagonist, Brooks makes his debut on the big screen with the film Wrecker (2022). This epic independent film endeavor tells the story of a construction worker named John Knox (Bryan Brooks) who joins forces with a sharp-shooting detective (Madrid Amora Mora) in search of John's missing wife. During their search, the two unknowingly find themselves entangled in the sinister plan of a powerful cartel boss who is planning a citywide takeover. The cartel has administered a newly discovered drug to thousands of unwilling participants. The drug induces the brain into a zombie-like stage whilst enhancing the body with super human strength. The crime boss' plan is to attack an American city with a horde of 'zombies' just before laying seige of the city by force. The malevolent cartel boss will soon discover that he has underestimated the tenacity of his new adversaries.
Independent filmmakers are known for their freedom of creativity and content. Due to their low budgets, most independent projects do not incorporate renowned actors nor directors, but instead rely on the sheer determination to impress their audiences. Thus, Brooks worked tirelessly for years in the creation of his film alongside longtime friends Madrid Amora-Mora, Brandon Hamilton, Charlie Woods and Tyrone Hutton. The result of all that hard work is a gritty, non-stop action movie with an 80s style that is every bit the quality and standard of a much larger budget Hollywood film.
"The biggest challenge for independent filmmakers is to come up with original ideas that both entertain and connect with audience members, ideas that invite discussion on the issues we believe are relevant," says Bryan Brooks. "Breaking new ground and pushing boundaries with unique storylines and compelling ideas that engage audiences is how emerging talent gets noticed," says Brandon Hamilton, the film's Director of Photography.
Determined to show the world his abilities after years of hard work and great effort, Bryan Brooks is very pleased to have created what he calls the film he always wanted to see. "People are smart and need intellectual stimulation more than mundane stories and predictable endings, that's where it pays to be an independent filmmaker. I just made the movie I always wanted to see. Wrecker (2022) is pure action, filled with crazy sets, funny situations , memorable characters, fantastic fight scenes, macho heroes, beautiful and powerful women and of course zombies! In short, Wrecker has it ALL!" Says Bryan Brooks.

The post-production of Wrecker (2022) concluded at the beginning of 2022 and shortly after it was released in the United States through the renowned Los Angeles based film distributor Indie Rights, who are very happy with the success the film is having. They are very excited to make the official launch in South America and especially in Colombia where part of the movie takes place.
Currently Wrecker (2022) is available around the world on YOUTUBE MOVIES with subtitles and will soon be dubbed into Spanish. The film is also available in Canada, USA, Mexico and the UK on TUBI and AMAZON PRIME VIDEO.
(En Español)
Impactando en la industria del entretenimiento, Bryan Brooks se suma en una producción sin precedentes. En el rol de escritor, director, productor, editor y protagonista, Bryan, hace su debut en la pantalla grande con su película Wrecker (2022) que relata la historia de un trabajador de la construcción en busca de su esposa desaparecida. Uniendo fuerzas con un detective para encontrarla, sin saberlo se ve envuelto en el siniestro plan del jefe de un cartel criminal que busca apoderarse de la ciudad. El malévolo jefe de cártel pronto descubrirá que ha subestimado la tenacidad de su nuevo adversario.
Los cineastas independientes, son conocidos por su libertad de creatividad y contenido. Debido a los bajos presupuestos, la mayoría de ellos no trabajan con actores ni directores de renombre, pero si con el determinación de impactar a la audiencia. De esta forma Brooks trabajó incansablemente durante años, junto al talento de Madrid Amora-Mora, Brandon Hamilton, Charlie Woods y Tyrone Hutton, para traer a la luz a "Wrecker", una película de acción al estilo de los años 80 al nivel de Hollywood.
"El mayor reto de un filmmaker, es traer una idea original, que entretenga y conecte con la audiencia, cree controversia e invite a debatir sobre los temas que creemos relevantes" comenta Bryan Brooks.
"Romper esquemas y empujar los límites con historias únicas e ideas atractivas que atrapen a la audiencia es la forma en que se notan los talentos emergentes" Dice Brandon Hamilton, Director de fotografia del film.
Con la determinación de mostrarle al mundo sus habilidades y despúes de años de intenso trabajo y grandes esfuerzos Bryan Brooks esta muy satisfecho de haber creado lo que el llama su obra maestra. "La gente es inteligente y necesita estimulación intelectual, más que historias mundanas y finales predecibles, ahí es donde vale la pena ser cineasta independiente. Simplemente hice la pelicula que siempre quise ver. Wrecker (2022) es acción pura, escenarios locos, situaciones divertidas, personajes memorables, escenas de luchas fantasticas, heroes machos, mujeres hermosas y poderosas y por supuesto ¡zombies! En pocas palabras Wrecker lo tiene ¡TODO!" Dice Bryan Brooks.
La posproducción de "Wrecker" concluyó a principios del 2022 y poco después fue lanzada en los Estados Unidos a través la reconocida distribuidora de cine independiente INDIE RIGHTS, quienes están muy felices por el éxito que este film está teniendo. Están muy emocionados de hacer el lanzamiento oficial en Sur America y especialmente en Colombia en donde parte de la pelicula se desarrolla.
Actualmente "Wrecker" (2022) está disponible en YouTube Movies con subtitulos y proximamente doblada al español. Ver en TUBI y AMAZON PRIME VIDEO también.
Bryan Petersen
Chrome Phoenix Studios
+1 213-793-6115
email us here
Visit us on social media:
Facebook
Twitter
Instagram
YouTube
TikTok
Official Wrecker Trailer


Originally published at https://www.einpresswire.com/article/649402769/small-town-independent-filmmaker-makes-waves-with-worldwide-release-of-zombie-film