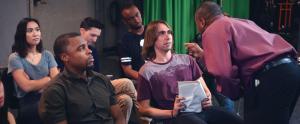 Winner of TEN BEST OF FESTIVAL awards, SHELLFISH, Life Comes In Waves, is a fun summertime movie for all ages.
Shellfish is a work of sheer passion and creativity."
— Film Threat
LOS ANGELES, CALIFORNIA, USA, August 28, 2023/EINPresswire.com/ — "Shellfish is the movie you wish you would come across on Netflix." -IMDb Review
"Maintaining a consistent vision with the fusion of hand-drawn and stop-motion animation, this is an absolute delight for anyone who adores filmmaking and the love that often goes into it." -Film Threat
"I saw the movie 3 days ago, and I cannot stop thinking about it. It is the most engaging movie I've seen this year."
-Letterboxd Review
"This one is like a pop-up book of handmade wonders, so simple, yet so infectiously openhearted and true." -The Movie Elite
"Big props, you love to see a mixed medium film actually pull off the mixing."
-Letterboxd Review
"I was in love with every minute of this film. It's so good."
-Indie Film Review Podcast
Shellfish is a true independent diamond in the rough. You may have just stumbled upon a cult classic in the making, and either way, if you're into funny, colorful, imaginative movies that draw you in and leave you satisfied, SHELLFISH is just what the doctor ordered.
Read what people are saying! See what can be accomplished on an indie, micro-budget. It played at 75 film festivals around the world and won TEN BEST OF FESTIVAL AWARDS. Wait…maybe you should watch this little movie.
Click here to learn more and to watch SHELLFISH -> https://linktr.ee/shellfishfilm
SHELLFISH is the first feature film from writer/director Hunter Hopewell, who also plays the protagonist, Keller – a stop motion animator who has a week to make a film with his dumbstruck brother and the girl of his dreams without his parents finding out. As their shoot unravels, Keller must face his own selfishness and decide which is more important, his filmmaking or close relationships.
SHELLFISH is a heartfelt, coming-of-age comedy with a stop-motion twist. Following a harrowing loss, Keller focuses on filmmaking instead of dealing with traumatic circumstances. Consequently, strong emotions are depicted through animation mixed with live-action footage, inspired by films like Scott Pilgrim vs. The World and Me and Earl and the Dying Girl.
Audiences love the film's cinematic look, standout comedic & heartfelt performances, colorful set pieces, engaging story, catchy original score, and soundtrack featuring popular alternative artists Tally Hall, Kishi Bashi, and Austin Weber.
SHELLFISH doesn't take itself too seriously even while dealing with emotionally charged themes, like death, parenthood, sibling rivalry, commitment, and of course, selfishness.
Initially made possible through UNLV's Johnny Brenden Filmmakers Grant, SHELLFISH was completed with support from many selfless contributors and collaborators. It premiered at the Dances with Films Festival at the TCL Chinese Theatre in Hollywood, once owned by Johnny Brenden's grandfather, Ted Mann.
SHELLFISH is available as VOD on every major streaming platform, distributed by Freestyle Digital Media, and on Blu-Ray, produced by Allied Vaughn; available wherever Blu-Rays are sold online!
James Robert
Cre8ive Network, llc
email us here
Visit us on social media:
Facebook
Instagram
Other
Shellfish Movie Official Trailer


Originally published at https://www.einpresswire.com/article/652167184/shellfish-summer-indie-movie-sweeps-with-35-festival-wins