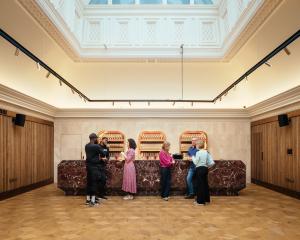 Comprehensive expansion and re-design of the British Academy of Film & Television Arts, Grade II Listed headquarters at 195 Piccadilly.
LONDON, UNITED KINGDOM, June 20, 2023/EINPresswire.com/ — • Location – 195 Piccadilly, London, W1J 9LN
• Client – BAFTA (British Academy of Film and Television Arts)

• Architect & Interior Design – Benedetti Architects

• Structural Engineers – Price & Myers
• Contractor – Knight Harwood
• Services Engineer – Harley Haddow
• Project Manager and QS – Jackson Coles
• Client Project Manager – Equals Consulting
• Planning Consultant – DP9
• Lighting Designer – LAPD
• AV Consultant – Charcoalblue
• Acoustic Consultant – Sandy Brown
• Heritage Consultant – Alan Baxter Heritage
• Approved Inspector – Sweco
• Fire Engineer – BWC Fire
• Project sector – Cultural
• Budget – £33,000,000
• Project completion date – January 2022
The comprehensive expansion and re-design of BAFTA's Grade II listed headquarters, enhances BAFTA's international identity as the centre of excellence for motion picture arts in Film, Games and Television; integrating innovative state-of-the-art technology and cost-in-use efficiency while sensitively balancing members' needs with public access and revenue generation, ensuring the charity's long-term social, environmental, financial sustainability.
The charity's home since 1974, 195 Piccadilly was built in 1883 as the Royal Institute of Painters in Water Colour (JMW Turner's bust on façade) when snubbed by neighbouring Royal Academy. Its size, layout and failing services severely limited BAFTA's delivery of ever-widening charitable programmes. New Crown Estate lease beyond their 100th anniversary, prompted commissioning Benedetti Architects as architects & interior designers. Funded by donations/reserves, BAFTA has no government subsidy.
The 2,050m2 Listed building was tired, unfit-for-purpose, expensive to run/maintain. Our design creates 2465m2 state-of-the-art spaces with maximum flexibility, balancing the charity's educational work with members' needs and revenue. At its heart is the Learning and New Talent floor, core to the charity's mission, enabling the inspiration, support, and training of diverse young creatives in Film/Games/TV.
Design significantly increases usable area, doubling capacity & WC's, with entirely new infrastructure, fire safety, energy performance, acoustics, thermal comfort, and useability. Unifying interior design enhances BAFTA's unique character celebrating its historic assets. Our inventive re-working of various combinations of spaces, volumes, views, sequential movement, enables robust charitable/commercial adaptability with opportunities for theatrical reveals/special events, securing the charity's long-term social and financial sustainability.
Most strikingly revelatory aspect of our design creates a new top floor that restores/raises/re-integrates two huge 1883 Victorian rooflight spaces & decorative plasterwork blocked +40 years and considered lost. The historic plasterwork/structures lifted 3m and enclosed with innovative high-performance 'Eyrise' smart glazing (first UK use) creating the new top floor with spectacular views over St James's Church & garden. Another UK first-use is our 3D-printed 'wearpure.tech' airborne-carbon reducing bar/screen highlighting sustainability to young visitors on the Learning/New-Talent floor.
EPC benchmark rating improved "G" to "B" with ±73% carbon reduction from ±155 to ±42 kg/CO2/m2 saving ±292 tonnes of carbon/year.
Includes: 227-seat Princess Anne cinema/theatre (with Dolby Atmos ensuring it's the UK's finest), new 41-seat cinema/theatre, banqueting hall, 4 kitchens, multi-purpose event/exhibition spaces, members' bar/restaurant area, new skylit boardroom re-using historic materials found during construction complementing our bespoke new table/chairs, judging/meeting rooms, staff welfare/offices, and new terraces overlooking Piccadilly and St. James's Churchyard.
Pared-down palette of classic, durable, sustainably sourced materials in varying textures, highly crafted in a suite of bespoke detailing, increasing refinement on successive floors to top-floor 'crescendo'.
Futureproofing via robust flexibility, functionality & financial efficiency, driving massive growth of learning/new-talent development programmes, resulting in: ±10,000,000 learners/year engaged online, equipping ±80,000 people/year with tools for film/games/TV careers, and ±500/year talented individuals' tailored support.
Close collaboration with client/consultants; partnering agreements with innovative firms like Dolby, Christie, Merck, Noumena etc. and proactively engaged contractors during 2.5-years construction through COVID, the £25 million project successfully completed on time & budget Sept.'22 for commissioning/training and public opening Jan.'23.
In BAFTA's press release for the opening event, HRH The Duke of Cambridge & President of BAFTA said, "I am hugely proud of BAFTA's ongoing commitment to ensuring that young talent from all walks of life are given every possible opportunity to build and develop successful careers in the film, games and television industries. The redevelopment of 195 Piccadilly has created fantastic new learning spaces to ensure that future generations can receive the support they need to thrive."
Awards:
• RIBA UK Awards 2023 – London Awards – Winner

• Green Good Design Awards 2023 – Winner

• World Architecture Festival Awards 2022 – Inside: Bars & Restaurants – Highly Commended

• World Architecture Festival Awards 2022 – New & Old – Winner

• New London Architecture Awards 2022 – Conservation – Winner

• Building Innovation Awards 2022 – Most Innovative Restoration/Refurbishment – Winner

• London Construction Awards 2022 – Fit out project of the year – Winner

• SECBE Awards 2022 – Conservation & Regeneration – Winner

• FIS Awards 2022 – Plasterwork/Fine Arts Moulding – Winner

• Green Apple Awards 2022 – Beautiful Buildings – Winner

• Surface Design Awards 2022 – Public Building Interior – Winner

• Surface Design Awards 2022 – Supreme Award – Winner
BENEDETTI ARCHITECTS
We focus on people – our clients and all who use, or are affected by what we design. We create elegant and uplifting places, finding enduring solutions that add value and are rooted in a contextual understanding of place and the tactile qualities of materials, volume and light.
We enjoy taking time to understand clients' ambitions and values, the wider context and the specific site. We work with our clients to find the best solutions. Good architecture depends on many people working together. We create a relaxed atmosphere of open, creative collaboration between client, design team, stakeholders and builders.
We seek the best value out of the complex realities that all projects face, turning constraints into practical opportunities.
Anna Stachova
Benedetti Architects
email us here
BAFTA (British Academy of Film and Television Arts) short video


Originally published at https://www.einpresswire.com/article/640497198/benedetti-architects-revitalizes-the-bafta-headquarters-british-academy-of-film-and-television-arts