Aftermath of an adrenaline-pumping stunt on the 'Jawan' set. Destroyed vehicles, shards of glass, and serene blue skies tell a silent tale of action and chaos.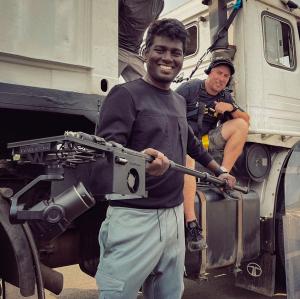 Director Atlee Kumar proudly displaying the WarpCam® with creator Ferdi Fischer in the backdrop.
Proof of professional precision on the 'Jawan' set: an epic stunt, a wrecked vehicle, zero injuries
Ferdi Fischer, Spiro Razatos join for 'Jawan'; fusion of expertise & WarpCam® tech set to stun. Release on Sept 7, 2023.
Shah Rukh Khan stands out as one of the most down-to-earth superstars I've ever had the pleasure of working with throughout my career."
— Ferdi Fischer
STUTTGART, BADEN-WüRTTEMBERG, GERMANY, July 26, 2023/EINPresswire.com/ — Ferdi Fischer collaborates with Hollywood action director Spiro Razatos on a spectacular Bollywood film, "Jawan," starring Shah Rukh Khan.
A unique tri-continental collaboration brings together German action director Ferdi Fischer, Hollywood action director Spiro Razatos and Bollywood superstar Shah Rukh Khan in a riveting spectacle titled "Jawan." This collaboration has drawn global attention, showcasing the fusion of Fischer's action cinematography expertise and Razatos' leadership in Hollywood action films.
Groundbreaking Camera Technology – WarpCam®
Fischer's ground-breaking camera technology, WarpCam®, has played a crucial role in this project. The technology enables dynamic action shots from almost any angle. Recognizing Fischer's unique skills with WarpCam®, he and his team were specifically flown to India to contribute to the film's most significant action sequence.

Atlee Kumar, the director of "Jawan," was thrilled with Fischer's contribution and announced plans to bring Fischer and his team back to India for future projects. Fischer's extraordinary skills, coupled with the innovative WarpCam® technology, have left a lasting impression on the film team and are expected to set a new standard for action scenes in Bollywood.
Unique Experience with Superstar Shah Rukh Khan
As the filming progressed, the team moved into the large Film City studios in Mumbai for the second stretch. Here, the WarpCam® was used to capture advanced wrap-around shots of Shah Rukh Khan. Speaking about this, Fischer said, "Shah Rukh Khan stands out as one of the most down-to-earth superstars I've ever had the pleasure of working with throughout my career."
Fischer's Impact Beyond "Jawan"
Fischer's impact isn't limited to "Jawan." He and his team at SlamArtist.com, a company he founded, played a significant role in "Fast and the Furious 10," utilizing the WarpCam® in unique ways, including handheld operation close to the action, attachment to a speeding RC car, and stable footage from an extreme racing FPV drone. This work marked a cinema first, offering a thrilling new dimension to the iconic film franchise. You can watch the showreel of Ferdi's work on "Fast and the Furious 10" here.
Release Date and Production
"Jawan" was initially scheduled for release on June 2, 2023, but was postponed due to unfinished post-production work. The film is now set to release on September 7, 2023, coinciding with Janmashtami. The film is produced by "Red Chillies," Shah Rukh Khan's production company. Khan is not only the film's lead actor but also plays a significant role in its creative direction. The trailer for the film can be watched here.
Execution of Key Action Scene
The team at SlamArtist.com was instrumental in capturing the film's key action scene. The highly skilled team, comprising experienced professionals in stunt coordination, cam-ops, and action direction, helped bring the ideas of Fischer and Razatos to life on the screen.
Ferdi Fischer is a renowned action director, stunt coordinator, and stuntman with an impressive filmography. As the founder and head of SlamArtist.com, he has significantly influenced action cinematography with his inventive approach.
A Promising Cinematic Experience
With the unique fusion of Fischer's support and Razatos' direction, "Jawan" promises to be a cinematic masterpiece that will captivate the hearts of audiences worldwide.
For more details, visit Ferdi Fischer's official website www.slamartist.com
Ferdi Fischer
slamartist.com
+49 171 6325972
[email protected]
Visit us on social media:
Facebook
Twitter
LinkedIn
Instagram
YouTube
Other
Jawan |Official Hindi Prevue |Shah Rukh Khan |Atlee |Nayanthara |Vijay Sethupathi


Originally published at https://www.einpresswire.com/article/646599676/action-spectacle-jawan-featuring-ferdi-fischer-and-warpcam-captivates-the-film-industry