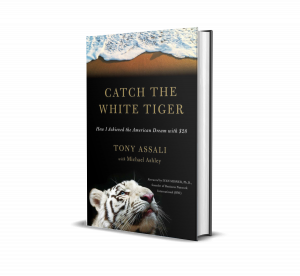 Author-entrepreneur gets real and personal in his memoir.
COOKSTOWN, NEW JERSEY, UNITED STATES, November 17, 2023 /EINPresswire.com/ — As the total number of immigrants has now reached a historic high, Tony Assali's story will resonate with many people.
Displaced by the civil war that broke out in his home country Lebanon, Tony Assali found himself catapulted into a new country, with a measly penny in his pocket. His parents encouraged him to take the chance and the risk in the Land of Opportunity, hoping for a greener pasture and ultimately, a better future. Indeed, he did not fail his family as he was able to deliver what he promised them—and more. He was able to bring his family to the US and helped them towards attaining a more comfortable life.
But what does it mean to be "living the American Dream?" The definition of the American Dream has constantly changed to mean different things to different generations. Basically, it is "the belief that anyone, regardless of where they were born or what class they were born into, can attain their own version of success in a society in which upward mobility is possible for everyone."
In his memoir, Assali reveals the secret to achieving the American dream: kindness and unflinching confidence in his vision. As the readers dive deeper into the book, they'll also get to step into the shoes of Assali and how he worked his way up. It was no easy ride, but the memoir exemplifies the enduring power of Assali.
This story, as well as the details of his other engagements that he has published, can be viewed on his website https://www.tonyassali.org. Don't miss out on this inspirational story, and grab a copy of "Catch the White Tiger: How I Achieved the American Dream With $28," now on Amazon.
About The Reading Glass Books

The Reading Glass Books is your local bookstore with a heart and now an emerging self-publishing house. We believe that each book is an experience, and we take that into heart as we celebrate both writers and readers manifested on our bookshelves—becoming part of everyone's reading journey since 2020. Please visit www.readingglassbooks.com for more information.
Lyn Goot
The Reading Glass Books
email us here
Visit us on social media:
Facebook
Twitter
Instagram
YouTube


Originally published at https://www.einpresswire.com/article/668515770/tony-assali-shares-how-he-achieved-the-american-dream