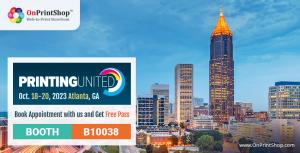 Streamline Print Biz with range of advancements – B2B & B2C W2P storefronts, Print Order, Wide Format, Label, Packaging, 4Over, Trade Printer, 300+ integrations
AHMEDABAD, GUJARAT, INDIA, August 24, 2023/EINPresswire.com/ — OnPrintShop, the globally acclaimed web-to-print solution provider, is ready to participate in the most awaited Printing United Expo 2023. The event is scheduled to take place in Atlanta, Georgia. Scheduled to commence from October 18th to 20th, 2023, the expo will offer a platform to OnPrintShop for presenting its revolutionary W2P solutions. Attendees can engage with the OnPrintShop team and experience firsthand the company's transformative offerings at booth #B10038. 
OnPrintShop's tech experts have been working to resolve pressing challenges faced by print companies, addressing them with an advanced range of Web to Print solutions, which will be available for demo at the expo.
Print companies can pre-book slots with free pass to stand a chance to consult with OnPrintShop's experts, learning how to best leverage technologies and automation for 2X business growth.
At this year's Printing United Expo, the print tech experts of OnPrintShop will be presenting their most advanced web-to-print solutions, tailored to improve print biz efficiency from order to delivery – such as B2B & B2C W2P storefronts, Print Order Management, Wide Format & Signage, Label & Packaging, 4Over, Trade Printer/Franchise Personalised Print & 300+ API integrations.
Highlights that would be showcased in the Printing United 2023 expo by OnPrintShop:
1. B2B & B2C Web-to-Print Storefront: Technology crafted to enhance and automate print business efficiency, from order to seamless delivery.
2. Advanced Print Order Management: Enhanced workflow with a seamless start-to-finish experience powered by a refined design proofing tool that lets print businesses centralize their backend.
3. Wide Format & Signage Solution: Detailed, precise estimation and end-to-end fulfilment for wide-format print orders.
4. Label & Packaging: Explore the modern label design and 3D packaging solutions that today's customers and business demands.
5. Web-to-Print with 4over API: Run your dropship print business integrated with industry giants like 4over, Sina Lite & Promo Standard.
6. Trade Printer/Reseller & Franchise Solution: Trade printer and franchise solution to manage a wider network of resellers at a minimal operation cost.
7. Personalized Photo Print Solution: From Photobooks to Canvas prints, experience seamless customization that allows users to create personalized photo products of their choice.
8. 300+ Ready Integrations: Reduce operational costs by saving time, gaining quick access to leading MIS, CRM, Accounting, Workflow, Payment & Shipping gateways.
Additionally, the attendees will also get a chance to discover the most advanced version of OnPrintShop v10.1 and how print service providers can leverage it, to increase their operational efficiency. Check out the preview video of the brand-new version here – https://youtu.be/RPvwNfXZq5E.
OnPrintShop presents a chance for print business owners to meet web-to-print experts with industry experience spanning more than 15 years. Print biz leaders can witness innovative breakthroughs, and learn how modern printing companies can leverage tech to overcome the pressing business problems. This is also a phenomenal scope to understand how digital web-to-print solutions can boost the efficiency of printers worldwide.
The Company Invites Print Service Providers to Meet the Printing Industry Experts at Printing United 2023 Booth #B10038  
Trent Foreman, Regional Manager at OnPrintShops, says "In the face of labor shortages and rising operational expenses within the printing industry, we, the OnPrintShop team, are enthusiastic about sharing our advanced print order management capabilities at the Printing United expo. Our focus remains on delivering an automation-driven and economically efficient order management workflow, catering to the precise requirements of PSPs."
Naresh Devra, VP of Product Development at OnPrintShop quoted, "Let's meet and discuss how we can improve the print business efficiency and optimize the order fulfillment process. Be it wide-format, label, or packaging solutions or personalized photo print solutions, let's explore new opportunities with print tech solutions at this expo."
Naimish Patel, AVP at OnPrintShop, mentioned "Printing industry is evolving at a dynamic pace, and to remain steadfast in our commitment OnPrintShop is advancing its offering to Print businesses with out-of-the-box range of W2P solutions that effectively addresses real-world challenges."
About Printing United Expo 
Printing United Expo is one of the world's most famous and zestful printing events. Presented by Printing United Alliance, it is held annually and brings together the global printing community to experience all the latest print technologies in one place.  
About OnPrintShop  
OnPrintShop is a pioneer in the web-to-print industry, creating a remarkable difference for PSPs worldwide. Its leading-edge W2P solutions have been driving efficiency, boosting customer experiences, and propelling print businesses toward success for over a decade. 
Naimish Patel
OnPrintShop
+1 718-715-1551
email us here
Visit us on social media:
Facebook
Twitter
LinkedIn
Instagram
YouTube


Originally published at https://www.einpresswire.com/article/651282229/printing-united-onprintshop-invites-print-companies-to-witness-web-to-print-tech-automation-that-promise-2x-growth