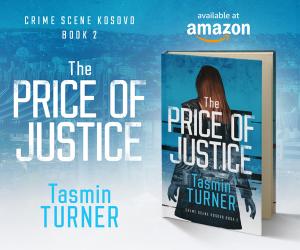 Wish Books presents Tasmin Turner's gripping second installment in her thrilling Kosovo crime trilogy.
Until next time, keep chasing justice!"
— Tasmin Turner
WELLINGTON, NEW ZEALAND, July 12, 2023/EINPresswire.com/ — This captivating second installment of a thrilling trilogy draws readers into a world of intrigue and danger at a breathtaking pace. The novel has been available worldwide on Amazon, Ingram Spark, and other major online retailers in both print and eBook formats since July 6, 2023.
New Zealand lawyer Kit Chase makes a high-stakes return, unveiling sinister secrets while managing a high-profile crime case in Kosovo. Kit navigates the realms of love, revenge, and a maze of perilous conspiracies, matching wits against formidable opponents in the Balkans. As she unravels a mammoth money-laundering operation embedded deep within the power structure, Kit confronts the unsettling reality that the legal system she trusts might be insufficient to safeguard her and those she's committed to defend.
Tasmin Turner, an independent writer based in New Zealand, is celebrated for her meticulous attention to detail, well-rounded characters, and narratives brimming with suspense. Her latest work continues to expand the boundaries of the crime thriller genre.
"I am tremendously excited to present 'The Price of Justice: Crime Scene Kosovo Book 2'," Turner says about her newest release. "This book is the culmination of years of rigorous research and writing. It's a tribute to courage, resilience, and the unwavering human spirit. I eagerly anticipate readers worldwide embarking on this thrilling journey."
Early reviews heap praise on "The Price of Justice: Crime Scene Kosovo Book 2" for its fast-moving plot, vibrant imagery, and engaging characters.
To join Kit Chase in her relentless pursuit of justice, secure your copy of "The Price of Justice: Crime Scene Kosovo Book 2" from Amazon, Ingram Spark, or your favorite online retailer today.
For additional information about Tasmin Turner or "The Price of Justice: Crime Scene Kosovo Book 2," kindly visit the Wish Books website at

https://www.wish-books.com/.
Tasmin Turner

Wish Books

[email protected]
Joann Greig
Wish Books
+64 6-880 0281
email us here
Visit us on social media:
Facebook
The Price of Justice trailer
Originally published at https://www.einpresswire.com/article/644004369/presenting-the-price-of-justice-crime-scene-kosovo-book-2-by-tasmin-turner