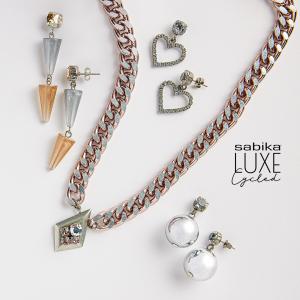 Sabika Jewelry Celebrates Sustainable Designs with Luxe-Cycled Collection
Sabika Jewelry Celebrates Sustainable Designs with Luxe-Cycled Collection
Vintage Sabika components create limited time collection
Care is crafted into every piece we make, and we are thrilled to offer these new styles that highlight one of our founding principles — sustainability."
— Alexandra Mayr-Gracik, Sabika Jewelry CEO & Head Designer
PITTSBURGH, PENNSYLVANIA, UNITED STATES, August 1, 2023/EINPresswire.com/ — Sabika Jewelry (Sabika), is pleased to announce the launch of its 2023 Luxe-Cycled Collection. The first of its kind for the Pittsburgh-based jewelry brand, the collection celebrates Sabika's ongoing mission of sustainable design and manufacturing practices using vintage elements to create new designs. The pieces will be available in limited quantities on August 1, 2023.
"Care is crafted into every piece we make, and we are thrilled to offer these new styles that highlight one of our founding principles — sustainability," said Alexandra Mayr-Gracik, Sabika Jewelry CEO & Head Designer. "We are proud of our commitment to sustainable business practices and to create jewelry that is ethically made, environmentally friendly, and made as heirlooms that will last for years to come."
Celebrating 22 years of design philosophy, this new collection of beautiful styles celebrates components from past collections brought back in fresh new styles. All Sabika products are handcrafted in Europe and are held to the highest standards of eco-conscious manufacturing.
"We care about the lasting impact of our business on the environment, we always want to limit waste, and we can't wait to see how these new designs unlock beautiful, joyful moments every time they are worn," said Mayr-Gracik.
The Sabika 2023 Luxe-Cycled Collection will launch on August 1, 2023, and will be available while supplies last.
To learn more about the design philosophy and details of the 2023 Luxe-Cycled Collection from Sabika CEO and Head Designer Alexandra Mayr-Gracik, click HERE.
About Sabika Luxe-Cycled

Celebrating 22 years of design philosophy, we're bringing back vintage Sabika components crafted into a new limited time collection. Why? We're highlighting our commitment to our sustainable business practices of creating jewelry that is ethically made, environmentally friendly and made to last as heirlooms handcrafted with love.
The Luxe-Cycled Collection takes beloved Sabika elements seen in previous seasons, and uses them to create new styles. Paying homage to the original Sabika design philosophy, each piece is designed to match black, white, khaki and denim. Familiar components made new again, these pieces are designed to be experienced and styled in completely new ways. Heirloom elements also speak to Sabika's foundation of sustainability to create and market jewelry in a responsible and conscious way that acknowledges environmental and socioeconomic impacts. It's our way of being mindful as well as our way to honor the time and craftsmanship of each vintage element. To learn more, please visit https://sabika-jewelry.com.
About Sabika Jewelry

Sabika Jewelry (Sabika) was founded in 2001 by Karin Mayr at the age of 50 with the sole purpose of caring for her family. Determined to build a company to connect women from all communities, her compassion and love have become a cornerstone of Sabika, elevating its product, services and each connection made by the Sabika Family. A women-founded and led, artisan-made brand and Social Selling Platform, it has become a multimillion-dollar family-owned jewelry company. Founded and headquartered in Pittsburgh, PA, Sabika uses rare and unique components sourced from leading vendors across Europe. Female artisans throughout Austria and Germany then craft each piece using sustainable and eco-conscious finishing methods. Sabika's customers and independent consultants span across the United States. Giving back to the community and creating opportunity is part of Sabika's mission. Since its inception and together with Sabika Consultants, the company has raised over $4.27 million for local and national charities. Visit sabika-jewelry.com to learn more.
Darice Nagy
Green Dot Communications
email us here
Visit us on social media:
Facebook
LinkedIn
Instagram
YouTube
2023 Sabika Luxe-Cycled Collection Reveal


Originally published at https://www.einpresswire.com/article/647566942/sabika-jewelry-celebrates-sustainable-designs-with-luxe-cycled-collection