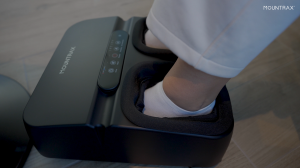 A Trusted Companion in Your Daily Life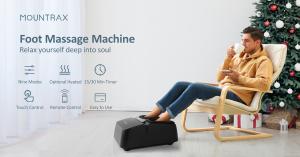 Mountrax Foot Massager for Holiday Gift
Home foot massager is an affordable holiday gift solution for foot pain relief and relaxation
NEW YORK, NEW YORK, UNITED STATES, November 14, 2023 /EINPresswire.com/ — MOUNTRAX, a leading health and lifestyle company, is pleased to announce a special Black Friday promotion for their Foot Massager. In exciting news, starting from November 17th to November 27th, customers can receive a 20% discount on the MOUNTRAX Foot Massager when purchased on Amazon.
"The MOUNTRAX Foot Massager has gained recognition for providing relief from foot discomfort, both from certain health issues and also from normal soreness from standing or walking for work," commented a spokesperson from the company. "This exclusive offer makes it a great time to purchase the foot massager as a holiday gift for a loved one. Our foot massager is a device that can deliver joy and relief for years to come."
Professional Shiatsu Massage: Equipped with two independent rolling heads with multiple ergonomic small massage heads, the MOUNTRAX Foot Massager offers a thorough and relaxing Shiatsu massage.
Full Coverage Air Compression: Designed to alleviate tired muscles and provide relief for those with plantar fasciitis, the massager utilizes deep kneading and squeezing techniques.
Nine Customized Modes: Users have the flexibility to choose from three kneading and three air compression intensities to match their comfort preferences.
Optional Heat Function: The Foot Massager offers an optional heating feature that can help enhance blood circulation and provide added comfort, particularly during colder weather.
Washable Foot Cover: Designed with a zipper for easy removal, the washable foot cover ensures a hygienic experience.
Included in the package are the Mountrax Foot Massager Machine, a Remote Control, and a full one-year service guarantee.
MOUNTRAX is committed to inspiring a healthier lifestyle and continually researches healthcare products to help inspire happier, more productive lives with less pain. Their dedication to quality control and innovation has made them a trusted brand in the wellness product market.
Customer reviews for the foot massager have been positive across the board.
Robert P. Smith recently said, in a five-star review, "I don't know what it is about women & getting their feet massaged, but guys, I'm here to tell you that your lady will absolutely LOVE you for getting her this little machine. My wife has had two foot surgeries, and her feet have always bothered her with pain. She used this machine 5 or 6 times the day I got it for her and every day since. She says her feet no longer hurt."
Poeple who are interested in it can take advantage of this exclusive Black Friday offer: ZVHFQVLP (20%off)
About MOUNTRAX:

Established in 2021, the retail company focuses on the research, development, and design of sell branded innovative lifestyle products, providing ways to share wellness and inspire customers to achieve better well-being worldwide.
Alex
MOUNTRAX
755 8958 2679
[email protected]
Visit us on social media:
Facebook
Instagram
YouTube
Mountrax Foot Massager


Originally published at https://www.einpresswire.com/article/666803157/mountrax-foot-massager-is-giving-discounts-on-black-friday