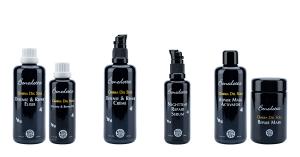 Julia Faller cites research and need for less toxic and more effective alternatives to traditional chemical sunscreens.
PETALUMA, CA, UNITED STATES, July 12, 2023/EINPresswire.com/ — The debate surrounding alternative sunscreens may not be widely acknowledged, but their potential efficacy is often underestimated. As public demand for less toxic options continues to grow, it becomes increasingly important to explore safer and more sustainable alternatives to existing chemical-based sun protection products.
"In a small pilot study conducted by the FDA and published online in the Journal of the American Medical Association, alarming results were observed*. After just one day of use, four leading chemical blockers commonly found in sunscreens, namely avobenzone, oxybenzone, octocrylene, and ecamsule, were found to accumulate in the bloodstream at significant levels. These levels continued to rise daily, surpassing the FDA's established threshold of 0.5 ng/ml.
Exposure to UV light triggers the rapid generation and accumulation of reactive oxygen species (ROS) in skin cells, leading to increased oxidative stress and premature aging. Plant antioxidants and polyphenols derived from bioavailable botanical sources such as seabuckthorn, carotenoids, rosehips, and kakadu have been identified as viable options for providing not only pre-sun exposure nutritive systemic protection but also after-sun care." Faller cites
Benedetta, a leading skincare brand, has long been committed to formulating products that address the needs of the skin and promote its overall well-being. Using only Certified Organic & Biodynamic materials sourced from alive botanicals, Benedetta offers a range of skincare preparations that provide bioavailable filtering and protection against ultraviolet radiation. Ingredients such as Rosehips, Amalaki, Kakadu, Carrot, Sea buckthorn, and Olive juice extract are carefully selected and used in their skin care products, including the Ombra Del Sole series.
Recognizing the difference their facial regimens make in mildly filtering the sun's rays while correcting damaged skin, Benedetta developed the Ombra Del Series to provide stronger and deeper protection against atmospheric toxicity, including UV radiation, for prolonged sun exposure.
Benedetta's Nighttime Serum, as part of their 3-step system for nighttime facial care, delivers essential phytonutrients deep into the skin's lower layers, combating oxidative disruption where it is most needed.
Julia Faller, Founder and Formulator of Benedetta Botanical Skin Care, stated, "We have always focused on developing products that nurture and support the skin's natural behavior. Using only fresh, healthy plants rich in vital carotenoids and constituents, our skincare formulations combat oxidative stress recognized by our vital organs."
*https://jamanetwork.com/journals/jama/fullarticle/2733085
You can learn more about Benedetta's Ombra Del Series and get 15% OFF until July 16th at benedetta.com
Daniela Guido
Benedetta, Inc.
+1 707-665-3904
[email protected]
Originally published at https://www.einpresswire.com/article/643363872/julia-faller-founder-of-benedetta-advocates-for-safer-sunscreen-alternatives