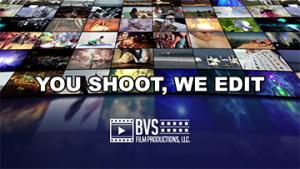 BVS Film Productions Professional, Effective And Affordable Remote Editing Service 440-653-9911 [email protected]
FREE Guide To Shooting Pro Video On Your Mobile Device
BVS Film Productions Empowers Businesses To shoot Professional Video With Their Phones By Offering A Free Guide, Bonus Video and Remote Editing Consultation
At BVS Film Productions, we believe that everyone should have the opportunity to create stunning videos without the need for expensive equipment"
— Dan Portik
CLEVELAND, OHIO , USA, September 20, 2023/EINPresswire.com/ — BVS Film Productions Empowers Businesses To Use Their Phones To Shoot Professional Video with Free Guide and Remote Editing Services
BVS Film Productions, a leading name in the world of video production, is thrilled to announce the release of an invaluable resource for all mobile videography enthusiasts. In the guide and video, there are professional industry tips designed to help make mobile phone videos look the best they can.
In an era where creativity knows no bounds, capturing stunning videos has become more accessible than ever. BVS Film Productions recognizes the growing demand for high-quality video content and is here to empower individuals to unlock their full potential in mobile videography.
Discover a concise video guide crafted by our specialists, designed to empower individuals in capturing flawless professional videos using just your mobile phone.
"At BVS Film Productions, we believe that everyone should have the opportunity to create stunning videos without the need for expensive equipment," said Dan Portik, President at BVS Film Productions. "Our free online guide combined with remote editing services are designed to democratize the world of videography, enabling anyone to produce exceptional videos."
For a free copy of the Guide To Shooting Professional Video With Your Mobile Device, reach out to BVS Film Productions at [email protected]
Dan Portik
BVS Film Productions
+1 440-653-9911
email us here
Visit us on social media:
Facebook
Twitter
LinkedIn
Instagram
YouTube
Discover the benefits of remote editing


Originally published at https://www.einpresswire.com/article/656375512/bvs-film-productions-offers-free-mobile-phone-video-guide-and-bonus-video-to-help-empower-small-businesses