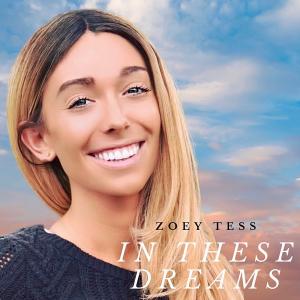 An Epic, larger-than-life song that takes listeners to a place where Fantasy & Reality Converge.
PALM BEACH, FLORIDA, UNITED STATES, August 20, 2023/EINPresswire.com/ — American Pop singer and Composer Zoey Tess has once again stirred the music industry with her newest single, "In These Dreams." Written and composed by Tess herself, the new single is a testament to her unwavering dedication and unique artistic ability to craft harmonious melodies. The single is available on all major digital and streaming platforms, including YouTube & Spotify, for fans to listen and enjoy.
This song marks yet another milestone in Tess's musical career. It presents a whimsical setting weaved together with a diverse musical arrangement, piano melodies and electric guitar undertones; through this, Tess takes listeners on a fantastical journey. As Tess puts it, "' In These Dreams' is a song that I believe deeply resonates with everyone, as each of us can believe in the power of our dreams."
Grammy Award-winning producer and engineer Mario McNulty, known for his work with iconic artists such as David Bowie and Prince, has worked alongside Tess on this project. Mario sprinkled his magic on the song, infusing it with a new life during the mixing process. Tess expressed her admiration for McNulty's sonic intuition, remarking, "It was so wonderful working with Mario McNulty on this project. Sonically he really understood my vision, and I'm so proud of everyone who helped bring this song to life."
Tess's journey, filled with dedication, creativity and genuine passion, has been nothing short of extraordinary. With an impressive track record of collaborations with renowned producers and a diverse range of musical artists, she ensures to add her heartfelt touch to every composition, renowned producer, and diverse range of musical influences.
With her captivating performances and larger-than-life musical compositions, she has secured a special place in the hearts of fans and music enthusiasts across the globe. With "In These Dreams", Zoey Tess invites listeners to embark on a sonic journey that blurs the lines between reality and imagination, reminding us of the magic in our dreams.
To learn more, visit: https://zoeytess.com
About Zoey Tess:

Zoey Tess is an accomplished American pop singer and songwriter hailing from a star-studded family, boasting a legendary film and Television actress as an aunt, a former baseball player, and a ballet dancer as loving parents. Known for her large-setting musical compositions that resonate with listeners, this has enabled her to amass fans from all across the globe. Her dedication and passion have been highly appreciated by senior music artists like Mario McNulty, who believe she is bound to make an indelible mark on the world of music.
Since the blossoming age of 12, Tess began her musical journey as she began learning Piano, Violin and Classical Voice. Her dedication soon led her to prestigious institutions like Interlochen Center for the Arts, where she solidified her commitment to her musical pursuits.
To learn more about Zoey Tess, follow her social media to keep posted with all updates.

Instagram: https://www.instagram.com/zoeytess/

Facebook: https://www.facebook.com/thezoeytess

YouTube: https://www.youtube.com/@zoeytess
Watch "In These Dreams" by Zoey Tess on YouTube: https://www.youtube.com/watch?v=W6RCbwOUFt0
Kim Gaffney
The 1193 Music Group
[email protected]
Visit us on social media:
Facebook
Twitter
Instagram
YouTube


Originally published at https://www.einpresswire.com/article/650910631/zoey-tess-takes-audiences-on-a-whimsical-journey-with-her-latest-single-in-these-dreams