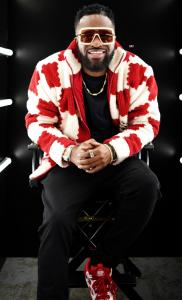 \"Baby Tonite,\" follows onto the artist's 9-track album- "Sugar Daddy Season" which he dropped for audiences in 2023


CHICAGO, ILLINOIS, UNITED STATES, October 3, 2023 /EINPresswire.com/ — Audiences should prepare to lose themselves in the electric beats of Money Coach, as he stuns audiences with his latest single, "Baby Tonite." Delivering striking, catchy, and feel-good compositions that make listeners want to dance the night away, Money Coach's compositions feature production by the renowned Top Billin.
Oozing with infectious energy and a portrait of undeniable talent, Money Coach's new single is all about entertainment and fun. However, what sets the artist apart from contemporaries is his ability to captivate and inspire audiences.
Whether you're on the dance floor or simply vibing to the music at home, Money Coach's tunes create an irresistible, electrifying, and moving impact. The artist's dedication to his craft is displayed by the fact that his roster boasts an astonishing 100 songs, averaging between one and three songs every single day.
With his unparalleled commitment, Money Coach has landed in publications such as Billboard, Hip Hop Weekly, and This is Fifty. Yet, despite his rapid rise to success, Money Coach remains humble and grounded, knowing that achieving greatness in the music world requires unwavering dedication.
The talented artist is steadfast in his mission to make a positive impact on the world of music and inspire others to pursue their dreams with the same level of determination that he embodies.
Money Coach remains confident in his mission to grow his fanbase and become an international hip-hop sensation. With the kind of music he's creating, there is little doubt that the artist is well on his way to achieving that dream. A dynamic artist redefining the face of music, Money Coach is ready to magnetize audiences with his unforgettable records.
Stream Money Coach's stunning new music on the artist's official music streaming sites, follow him on social media, and reach out to him through email for interviews, reviews, and/or collaborations!
###
ABOUT
Money Coach's profound impact on the music scene is undeniable, and his journey began with the loving influence of his parents, who introduced him to the world of music at a young age. With influences ranging from Snoop Dogg and Andre 3000 to Jay Z, Money Coach started writing music at just 11 years old.
Over the years, the artist has honed his craft and developed a unique sound that has garnered attention from fans and press alike. His dedication to his craft is unparalleled. In the past year alone, he's written an astonishing 100 songs, earning accolades from prestigious publications such as Billboard, Hip Hop Weekly, and This is Fifty.
Despite his early success, Money Coach remains humble and focused on inspiring others to pursue their dreams with the same level of dedication and hard work that he embodies. With a bright future ahead and a mission to take his music global, Money Coach is a rising star who's here to stay.
LINKS
YouTube: https://youtu.be/RdLojdy5oCw?si=8uyZuCW48lVrltXp

Spotify: https://open.spotify.com/artist/7v6EPExBzSiIPk2HU3Hxp1?si=Rxnqd_jhRq-xZsSgMQiqGA
Money Coach
Money Coach
+1 2166594475
[email protected]
Money Coach
Originally published at https://www.einpresswire.com/article/659306965/setting-the-dance-floor-ablaze-with-rhythmic-hip-hop-and-r-b-fusion-money-coach-unveils-baby-tonite