Co-host Chris Epting is an Orange County, CA Historian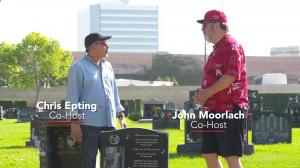 John and Chris on location during filming of OC History Hunters
PBS Program Unveils Orange County's Hidden Historical Treasures with Launch of OC History Hunters
There is so much rich history to uncover in Orange County – from the Mission in San Juan Capistrano to the Old Courthouse in Santa Ana and the award-winning vineyards in Anaheim."
— JohnMoorlach
IRVINE , CA, UNITED STATES, November 9, 2023 /EINPresswire.com/ — Prepare to embark on an exciting journey through time as OC History Hunters makes its highly anticipated debut this week on OC World, a nonprofit multimedia company that broadcasts to over 15 million households from Santa Barbara to San Diego. This captivating new PBS series will bring viewers an unprecedented look at the little-known historic treasures that lie beneath the surface of Orange County.
OC History Hunters features John Moorlach, a former state senator and county supervisor, renowned for his profound passion for history, and celebrated historian and best-selling author Chris Epting. Together, they delve into the depths of Orange County's rich past, unearthing fascinating stories that have remained hidden from the public eye—from the forgotten tales of early settlers to the vibrant history of iconic neighborhoods.
In the pilot episode, viewers will accompany Moorlach and Epting as they embark on a quest to uncover the untold tales of Orange County's baseball history. With their unwavering determination and extensive knowledge, they reveal a plethora of hidden gems—including captivating stories surrounding legendary figures such as Babe Ruth, Walter Johnson, Jackie Robinson, Joe DiMaggio, and many others.
Within the very episode, the OC History Hunters themselves help make history as they actively participate in shaping Orange County's baseball legacy. Witness the magical moment as Moorlach and Epting contribute to the local baseball scene, leaving an indelible mark on the community.
"There is so much rich history to uncover in Orange County – from the Mission in San Juan Capistrano to the Old Courthouse in Santa Ana and the award-winning vineyards in Anaheim," says Moorlach. "The pilot episode starts with a topic that Orange Countians will appreciate, its rich contribution to baseball history – starting with Babe Ruth in the county playing an exhibition game during the heyday of his professional baseball career to having the first American League Major League baseball team in California."
"This show is a labor of love for both John and me," says Epting. "We're thrilled to have the opportunity to share Orange County's rich history with viewers and shed light on the remarkable stories that have often been overlooked. OC History Hunters' is our way of giving back to this incredible community and showcasing its extraordinary heritage."
Click here to find which channel carries KLCS-PBS in your area or subscribe to our YouTube channel where episodes will be aired shortly after each broadcast.
About OC World

OC World is a nonprofit multi-media company that produces Orange County's sole public affairs news and feature programming. Fiscally sponsored by Charitable Ventures, OC World is committed to sharing bold but balanced news stories affecting Orange County citizens and beyond. OC World airs on PBS affiliate KLCS-TV, a multiple Emmy Award-winning noncommercial PBS affiliate station broadcasting to 15.5 million households from Santa Barbara to San Diego. Now in its third season, the program won Best Long Form Programming or Documentary at the 73rd annual Golden Mike Awards for the documentary Hope Dies Last.
###
Barbara J Kimler
Barbara Kimler PR
+1 949-521-4962
email us here
Visit us on social media:
Facebook
Twitter
LinkedIn
Instagram
YouTube
OC History Hunters History of Baseball


Originally published at https://www.einpresswire.com/article/667460321/former-senator-john-moorlach-co-hosts-new-oc-history-hunters-program