With a unique licensing agreement with The LIFE Picture Collection and its short-form documentaries, PHOTAVIA V-Clips create multi-generational conversations — and impact lives.
Pictured: a still frame from a PHOTAVIA short video. This is the first video PHOTAVIA produced as part of the "A Moment in Time" Series. These V-Clips are all two-minute segments.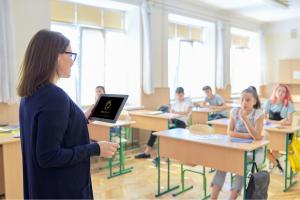 Pictured: PHOTAVIA in the classroom. "Brain Breaks" that reach and teach – history, art, social studies and more.
PHOTAVIA, creators of short films that engage, entertain, and educate, is looking for a Principal Investigator to help test our hypotheses and apply for grants.
An ideal researcher will emerge from healthcare and wellness, neurology, or possibly art therapy. We are frankly looking for the perfect PI to join our team that's why we've taken this approach."
— Christine Schultz B.S.W., M.A.Ed., PhotaviaED Director
FRANKLIN, WI, UNITED STATES, June 27, 2023/EINPresswire.com/ — PHOTAVIA, a company on the cutting edge of developing visual media for therapeutic purposes, is looking for a Principal Investigator (P.I.) to help test its hypotheses and apply for grant funding. The ideal researcher or researchers will come from a background in healthcare and wellness, gerontology, education/neurodiversity, neurology, art therapy, or a related field.
"We created the product, then observed increasingly positive therapeutic effects," said Christine Schultz B.S.W., M.A.Ed., Photavia ED Director.

"We're all passionate about the power of PHOTAVIA productions. Our 2-minute documentary-style V-Clips are designed to be non-agitating and calming as well as socially engaging and emotionally uplifting — something we've witnessed first-hand through hundreds of amazing interactions in just a few years.
"We see truly remarkable reactions to the clips, frequently spurring discussion about the feelings people have experienced and the memories or buried emotions that have been tapped. This is in people who've seemed previously largely unreachable or unresponsive.
"Now these cognitive tools are ready for the next step into serious research. We want to confirm what we've been observing and begin to allow these products to be more widely utilized."
Engaging, non-agitating, calming — feelings not typically delivered on a screen nowadays — are what PHOTAVIA is all about, says founder, president and CEO Joe Hausch. PHOTAVIA delivers content at a purposeful pace with inclusivity and accessibility in mind, all while delivering interesting, attention-triggering facts in an artistic and timeless format.
"'Edu-tainment,' or educational entertainment, is a key component of our product," says Hausch. "We know our product has therapeutic effects and we are looking for a few key researchers to help us prove it."
P.I.s interested in learning more about PHOTAVIA's work are encouraged to contact Schultz at [email protected] or [email protected].
Christine Schultz
PhotaviaED
+1 262-339-2027
email us here
Visit us on social media:
Facebook
Twitter
LinkedIn
Instagram
YouTube
Other


Originally published at https://www.einpresswire.com/article/641209402/engagement-content-company-photavia-is-searching-for-a-pi