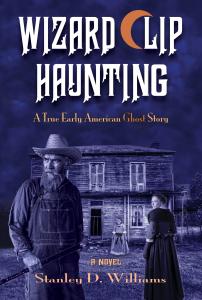 Hollywood story guru Stan Williams caps off 10 years of research and writing about a well-documented, historic and intriguing event in Early American history.
After three months of investigation, I was soon converted to a full belief of them. No lawyer in a court of justice did more than I, nor procured more than your unworthy servant."
— Rev. Demetrius Augustine Gallitzin (aka Fr. Smith)
NOVI, MICHIGAN, UNITED STATES, September 12, 2023/EINPresswire.com/ — Dr. Stan Williams takes his five-star novel on a book tour to the region of the country where the events were first documented and where they're still celebrated. October 7–17 will find Williams signing books and giving talks about on intersection of American poltergeists, political history and religion, particularly the persecution of Catholics, as it was in the late 18th century British colonies, and early United States. Williams has booked appearances in West Virginia's Shepherdstown, Charles Town, Martinsburg, Middleway, and in Virginia's Winchester, and Pennsylvania's Loretto, all places on the map where the historical events and the novel take place. Williams will also be a featured guest on Rob Mario's WRNR's morning talk show October 9.
The updated book tour schedule of dates, times and venues can be found at the top of the novel's website: www.wizardclip.stanwilliams.com
As a sought after writing coach who's movie projects have earned over a billion dollars at the box office, Dr. Williams revealed a secret of all good successful stories of which Wizard Clip Haunting was written: "To connect with vast, worldwide audiences story tellers must develop imperfect protagonist, with an impossible goal, in an ironic setting, and an antagonist that is all powerful. His work in Hollywood, and "Wizard Clip Haunting" is based on his best selling book: "The Moral Premise: Harnessing Virtue and Vice for Box Office Success" from Michael Wiese Productions.
One of the tried and true techniques of historical fiction is to begin with a rich history of a documented but ironic event for which there is a plethora of information and characters whose linage can be traced. Painstaking historical research of the era is also necessary in everything from construction techniques, to politics, to the exchange of coinage and currency which was in great flux at the end of the 18th century.
While a work of historical fiction, a great many of the characters and events in the novel are real. The main characters: Adam and Mary Ann Livingston, their neighbors Richard and Anastasia McSherry, and Fr. Denis Cahill actually lived through the hauntings. Further, at the request of Bishop John Carroll, the events were investigated by none other than Rev. (Prince) Demetrius Augustine Gallitzin, who founded the town of Loretto, PA. Gallitzin came to be known as the Apostle of the Alleghenies, and is under consideration for canonization by the Catholic Church. His current status is "Servant of God."
During his life time, Fr. Gallitzin wrote of the Wizard Clip hauntings: "After three months of investigation, I was soon converted to a full belief of them. No lawyer in a court of justice did more than I, nor procured more than your unworthy servant."
The story Gallitzin tells is not one but four, woven into a colorful, and at times, tragic tapestry of American history along with real and fictional characters. The first story involves a 35-acre plot of land that becomes the site of a deranged murder, a forged land deed, and a curse that results in its ownership being contested for a 100 years. Today, the plot of land fulfills Adam Livingston's wish that it be used for the care and feeding of a Catholic priest. It is the Priest Field Pastoral Center in Middleway. The second story involves Adam Livingston and his family who are forced to deal not only with the hauntings, but their own imperfections that lead to disastrous and deadly consequences. The third story is that of a heroic but renegade Irish priest, Fr. Denis Cahill. Having escaped anti-Catholic Ireland and finding his way to America by a circuitous route, the rebel cleric falls out with America's first bishop John Carroll, in part over the haunting events at Livingston's farm. But the residual anti-cleric sentiment left from England's penal laws, bring him often close to death, to say nothing of a particularly attractive Irish siren, Leticia. The fourth story is the source of the now famous hauntings, a persistent demonic poltergeist with a real name. Commonly known as the Clipping Wizard for its proclivity of cutting crescent moons from cloth, it does not hesitate to lash out with vengeance and death when its existence is threatened by the presence of Christian ministers who have come to exorcise it.
Today, over 200 years later, the village of Middleway, West Virginia continues to celebrate its place in history with wood badges on building fronts depicting a crescent moon and a pair of scissors. The village, to some, is still remembered as Cliptown.
Stan Williams is a writer and filmmaker, based in Michigan with occasional forays to Los Angeles and Europe. Stan has worked with Will Smith who calls the "Most Important Tool in my new tool box." In their free time, Stan and his wife, Pam, enjoy sailing on the Great Lakes aboard their 41' ketch, Family Ties. They have three children, and ten grandchildren living nearby. Stan holds degrees in Physics (BA), Mass Communications (MA), and Film Studies/Narrative Theory (PhD).
A full press release with synopsis, plot summary, and distribution information of the four print editions and multiple digital editions is available at the book's website: www.wizardclip.stanwilliams.com
"The Wizard Clip Haunting" is available through all major retailers. Signed copies available from www.NinevehsCrossing.com.
Stanley David Williams
Nineveh's Crossing
+1 248-344-4423
email us here
Visit us on social media:
Facebook
Twitter
LinkedIn
Instagram
YouTube
TikTok
Author Reads the Novel's First Turning Point Scene


Originally published at https://www.einpresswire.com/article/655310844/author-of-historical-novel-wizard-clip-haunting-tours-locale-of-america-s-first-haunted-house-and-exorcism