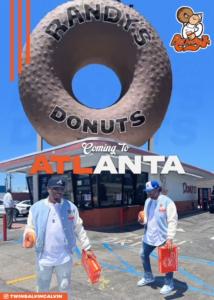 THE DONUT MACHINE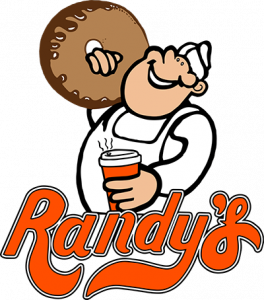 RANDY'S DONUTS
Alvin & Calvin Waters Bringing The Iconic Randy's Donuts To Atlanta
Alvin & Calvin Waters Bringing The Iconic Randy's Donuts To Atlanta"
— ALVIN AND CALVIN WATERS
ATLANTA, GA, USA, September 5, 2023/EINPresswire.com/ — Alvin & Calvin Waters Bringing the Iconic Randy's Donuts To Atlanta
Georgia natives Alvin and Calvin Waters of THE DONUT MACHINE bringing the Iconic Randy's Donuts to Atlanta Ga. has generated significant excitement among locals and visitors. Randy's Donuts, a renowned Los Angeles landmark, has been serving delicious donuts since 1962 and is famous for its giant donut sign, which has become a well known and iconic symbol throughout the world.
Alvin and Calvin Waters have always been passionate fans of Randy's Donuts. They were inspired by their frequent visits to Los Angeles where it was always a ritual to stop by Randy's Inglewood location after landing, grab a dozen of donuts then take the scenic route up La Cienega to Beverly Hills. Recognizing the absence of such an iconic donut shop in Atlanta, the brothers decided to collaborate with Randy's Donuts owner Mark Kelegian and introduce the franchise to their beloved city Atlanta, Ga.
The Waters brothers have a successful track record in the entertainment and fashion industry, having launched and managed popular artists, music producers, and fashion brands globally www.themachinegroup.org. Their commitment to quality and entrepreneurship is evident in every venture they undertake, making their decision to bring Randy's Donuts to Atlanta is a testament to their passion.
The new 10 Randy's Donuts locations in Atlanta will remain true to the original concept, offering a wide variety of freshly baked donuts made from scratch each day to satisfy every donut lover's craving.
To maintain the brand's heritage, Alvin and Calvin Waters are working closely with the city of Atlanta to ensure that the iconic giant donut sign becomes a prominent feature of the new location. This sign will not only pay homage to
Randy's Donuts but also serve as an eye- catching landmark and a social media worthy spot for locals and tourists.
In addition to providing delicious donuts, the brothers are committed to creating a welcoming and inclusive space for the Atlanta community. The new Randy's Donuts locations will feature a spacious dining area, comfortable seating, and a friendly atmosphere that encourages people to gather, indulge, and create lasting memories.
The arrival of Randy's Donuts in Atlanta not only excites donut enthusiasts but also reinforces the city's reputation as a culinary destination. With its rich food culture, diverse culinary offerings, and a community that appreciates quality and innovation, Atlanta is the perfect place for Randy's Donuts to make its East Coast debut.
As Alvin and Calvin Waters work tirelessly to bring the iconic Randy's Donuts experience to Atlanta, the anticipation continues to build. Soon, locals and visitors will have the opportunity to taste the legendary donuts that have captured the hearts and taste buds of millions around the world.
Atlanta, get ready for Randy's Donuts, your new favorite guilty pleasure.
Alvin and Calvin are currently entertaining investments partners for the first 3 out 10 stores locations.
Alvin Calvin Waters
The Machine Group
+1 404-399-6627
Email address: [email protected]
Visit us on social media:
https://facebook.com/alvin.calvin.waters
https://instagram.com/twinsalvincalvin/
https://www.wildboyx.com/
http://www.themachinegroup.org
http://www.thedonutmachine.net
https://www.linkedin.com/in/alvincalvinwaters
Alvin Calvin Waters
THE DONUT MACHINE
+1 404-399-6627
email us here
Visit us on social media:
Facebook
LinkedIn
Instagram
YouTube
Alvin & Calvin Waters Bringing The Iconic Randy's Donuts To Atlanta


Originally published at https://www.einpresswire.com/article/653906322/alvin-calvin-waters-bringing-the-iconic-randy-s-donuts-to-atlanta