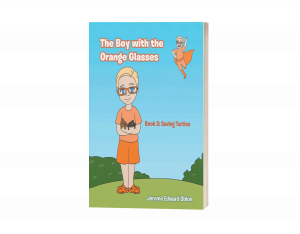 Don't miss the chance to experience the magic of "The Boy with the Orange Glasses Book 2: Saving Turtles" and share its valuable lessons with loved ones.
COOKSTOWN, NEW JERSEY, UNITED STATES, November 18, 2023 /EINPresswire.com/ — Jerome Edward Oblon has once again captured the hearts of readers with his equally adorable and heartwarming sequel, "The Boy with the Orange Glasses Book 2: Saving Turtles." Following the success of the first installment, this book continues to enchant readers of all ages with its delightful narrative and
profound moral lessons.
In this enchanting sequel, Jerome Edward Oblon takes readers on a journey alongside his four grandsons as they discover baby turtles near their home. What begins as a chance encounter evolves into a heartwarming adventure as the boys take it upon themselves to help these tiny turtles find their way to the safety of the lake. As they bond with these gentle creatures, the boys learn about the importance of compassion, responsibility, and the beauty of nature.
"Can you believe it? As we were leaving the lake that day, we turned around and looked back. We saw our four special turtles pop their heads up above the water. They were saying goodbye but also telling us to come and visit anytime," reads a touching excerpt from "The Boy with the Orange Glasses Book 2:

Saving Turtles."
"The Boy with the Orange Glasses Book 2: Saving Turtles" has struck a chord with readers of all ages, gaining praise for its positive messages and captivating storytelling. One reader commented, "What a wonderful sequel to 'The Boy with the Orange Glasses!' I love how the story progressed, moving forward with a narrative on the moral compass. As a parent, this book is a valuable resource to teach kids the significance of always doing the right thing." Another reviewer said, "I highly recommend 'The Boy with the Orange Glasses: Saving Turtles!' This second book from author Jerome Edward Oblon teaches kids to be good, responsible, and compassionate. With captivating illustrations, kids will surely love Hunter's story and adventure!"
To provide peace of mind to its readers, "The Boy with the Orange Glasses Book 2: Saving Turtles" comes with a 2-year book insurance, ensuring that your cherished copy remains in perfect condition.
For more information about the book and the author, please visit www.oblonbooks.com. To get the latest update on authors, book events, publishing and marketing opportunities, like and follow Writers' Branding on Facebook.
About Writers' Branding

Writers' Branding is a full-service self-publishing company that provides aspiring authors exclusive access to publicity and a pool of book evaluators and marketing creatives and bridges them to literary agencies and traditional publishing houses. Please visit www.writersbranding.com for more information.
Lyn Goot
Writers' Branding
email us here
Visit us on social media:
Facebook
Twitter
Instagram
YouTube


Originally published at https://www.einpresswire.com/article/669302445/the-boy-with-the-orange-glasses-book-2-saving-turtles-wins-hearts-with-its-compassionate-theme