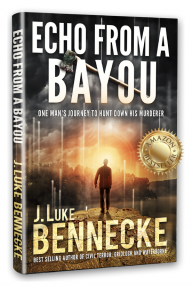 ECHO FROM A BAYOU by J. Luke Bennecke
J. Luke Bennecke will have you dodging bullets, throwing punches, and facing down a raging tropical hurricane all from the comfort of your favorite reading spot."
— BookTrib
UNITED STATES, September 20, 2023/EINPresswire.com/ — "With boundless energy and unexpected twists, ECHO FROM A BAYOU is a dramatic treasure hunt whose ending just might be the gold you've been searching for."
Accolades like the one above from Indies Today are rolling in for ECHO FROM A BAYOU, the latest genre-bending thriller by J. Luke Bennecke in which John Bastian, after waking from a coma, discovers memories from his past life as Jack Bachman and sets out on a dangerous journey to find treasure, save his former wife, and confront his murderer.
It all starts after a freak skiing accident unlocks hidden memories. With unshakable visions of a brutal ax attack, the cursed Lafayette treasure, and a captivating redheaded woman, John searches to find answers and solve the mystery of who he is and who he was.
On a perilous path and with a hurricane fast approaching, John fights for his survival and the safety of those he loves, threats haunting him at every turn. Will he find redemption, or be consumed by an unquenchable thirst for revenge?
ECHO FROM A BAYOU combines elements of action, adventure and suspense with a pronounced element of "the unexplainable," riding the line between supernatural and existential. Bennecke demonstrates unparalleled skill in tying together multiple plot lines, exploring meaningful themes such as autism and LGBTQ awareness, and saving a few surprises until the very last page.
More than just thrills and suspense, the author makes a point to raise awareness about autism and intricately weaves it into the storyline. Bennecke's genre-bending writing techniques and masterful storytelling ensure that readers will have an extraordinary experience.
"I thought it would be a worthwhile challenge to take the real-life, fascinating phenomenon of children mysteriously having inexplicable memories of past lives and wrap it with mystery, romance, suspense, and a splash of the supernatural," says Bennecke. "I mean, what would YOU do if you discovered who murdered you in a past life? And I found a terrific opportunity to bring much-needed awareness to autism by adding a dash of neurodiverse behaviors to one of the characters. So far, all the reviews have come in well above my expectations!"
The book contains many facets of thematic depth and writing excellence, making it exceptional in the thriller/mystery genre. Each character is imbued with a strong, straightforward motivation, which helps to drive the plot and simultaneously create suspense.
"What can I say about this fantastic novel?" writes Independent Book Review. "The pacing is amazing. The action starts on the first page and only gathers momentum from there. Bennecke knows exactly where to drip-feed information and where to cut it off to keep readers hooked without being frustrated. The premise is so intricate and uniquely executed. It's the kind of story you can jump on board with immediately."
"Ruthless treasure hunters, hidden secrets, callous murders, and the concept of reincarnation are just a few of the exciting elements vying for attention in this relentless novel," adds Indies Today.
"J. Luke Bennecke will have you dodging bullets, throwing punches, and facing down a raging tropical hurricane all from the comfort of your favorite reading spot," says BookTrib.
ECHO FROM A BAYOU is available in ebook, paperback, hardover, and audiobook on Amazon and other popular retail outlets where books are sold.
ABOUT THE AUTHOR

J. Luke Bennecke is a veteran civil engineer with a well-spent career helping people by improving Southern California roadways. He has a civil engineering degree, an MBA, a private pilot's certificate, and is a partner in an engineering firm. He enjoys philanthropy and awards scholarships annually to high school seniors.
In addition to his debut novel, bestseller and award-winning thriller Civil Terror: Gridlock, Luke has written several other novels and screenplays. His second Jake Bendel thriller, Waterborne, was published in 2021 by Black Rose Writing and received several awards. Echo from a Bayou skyrocketed to an Amazon bestseller when released August 8th and is his latest suspense thriller with a supernatural twist. He is represented by Terrie Wolf at AKA Literary Management and currently working on a high-octane spinoff while also editing his fifth, all new sci-fi thriller.
Luke resides in Southern California with his wife of 32+ years and three spunky cats. In his leisure time he enjoys traveling, playing golf, voiceover acting, and spending time with his grown daughters. https://jlukebennecke.com.
J. Luke Bennecke
J. Luke Bennecke, Author
+1 909-556-8852
[email protected]
Visit us on social media:
Facebook
Twitter
LinkedIn
Instagram
YouTube
Watch the trailer for ECHO FROM A BAYOU


Originally published at https://www.einpresswire.com/article/651608042/new-genre-bending-thriller-features-murder-betrayal-treasure-and-a-most-unusual-supernatural-twist