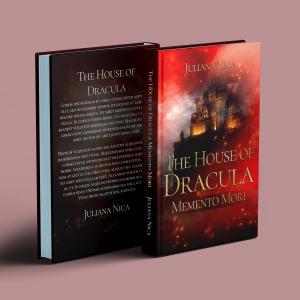 LEEDS, UNITED KINGDOM, November 17, 2023 /EINPresswire.com/ — Juliana Nica, a talented author, has released her latest work, "The House of Dracula," a novel that invites readers to embark on a mesmerizing journey into the heart of Transylvania, where love, power, and eternal darkness collide. In "The House of Dracula," Nica skillfully intertwines harrowing choices and forbidden romances that trace the origins of the world's most notorious vampire, Dracula and the haunting legacies left by his descendants. Nica's storytelling is a unique blend of romance and the supernatural, making her writing all the more intriguing.
Set against the eerie backdrop of Transylvania, the novel offers readers a chance to explore a mansion shrouded in shadows and whispered legends, inviting them to step into a world where the line between love and darkness becomes tantalizingly thin.
What sets "The House of Dracula: Memento Mori" apart from traditional vampire tales is Nica's ability to create an emotionally resonant narrative. Her characters are richly developed, and their interactions are deeply affecting, drawing readers into a world where the supernatural mirrors the human experience. The book delves into themes of love, power, and the profound choices individuals make when confronted with the prospect of eternal darkness. Juliana Nica's work is marked by its vivid imagery, drawing readers into a world where love is both a source of light and a pathway into the shadows. Her command over language and the eerie beauty of her prose create an atmosphere that is both chilling and alluring.
The author navigates between the supernatural and the emotional, which is what sets "The House of Dracula: Memento Mori" apart. This novel keeps readers on the edge of their seats, immersing them in a fictional world that raises questions about the eternal struggle between romance and power, the boundaries of morality, and the choices that define our existence.
For lovers of dark romance and those who appreciate the intricacies of the human experience with a supernatural twist, "The House of Dracula: Memento Mori" by Juliana Nica is a must-read. It's a novel that lingers in the mind, making readers question the boundaries between love, power, and the choices made in the face of eternal darkness.
"The House of Dracula: Memento Mori" is now available for purchase, and readers are invited to step into the shadows of Transylvania for a hauntingly captivating experience.
About the author

Juliana Nica is a talented author known to weave intricate and captivating stories that transport readers to mystery, romance, and the supernatural worlds. Her storytelling prowess is unmatched, drawing readers into her narratives with a combination of vivid imagery and emotional depth. "The House of Dracula: Memento Mori" is a testament to her talent, creating a story that is both haunting and emotionally resonant.
Grab your copy today from Amazon.
David Cooper
Woodbridge Publishers
+44 113 490 0487
email us here
Originally published at https://www.einpresswire.com/article/669313650/juliana-nica-s-the-house-of-dracula-memento-mori-brings-a-new-and-imaginative-twist-to-a-dark-tale