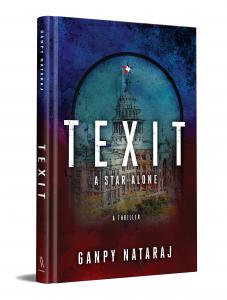 Ganpy Nataraj is excited to announce the release of his political thriller. "TEXIT – A Star Alone" is a fictional story, one that will make you think and react.
NOVI, MI, UNITED STATES, November 17, 2023 /EINPresswire.com/ — Contact:
Nataraj Ganapathy
Moyga Media LLC
"TEXIT – A Star Alone" by Ganpy Nataraj: A Thriller
Today marks the official release of "TEXIT – A Star Alone", a thriller, by Michigan-based author Ganpy Nataraj. This political thriller masterpiece promises to captivate readers with its speculative fictional elements and contemporary American politics.
Plot Summary:

In the wake of Governor Derek Fisher's bold proposal to secede from the Union, Texas finds itself in the throes of a political maelstrom. As Fisher strives to carve an independent future for himself, Senators Dodson and Newell pursue their own agendas. Amidst the intensifying power struggles and covert dealings, a few ordinary citizens are unexpectedly thrust into a vortex of life-altering challenges. Facing off against a corrupt nexus of political and corporate interests, a couple of activists Russell and Emily, and a relentless reporter Jason Greer, embark on a courageous quest. Can this determined trio defy the odds and bring about change, or will the fate of Texas remain in the hands of a select few politicians?
Author quote:

I am very excited to have you embark on a gripping journey with me in this thriller alongside these compelling characters, as they navigate a landscape of political upheaval that could reshape history. "TEXIT – A Star Alone" is my debut novel and I look forward to entertaining you through this important story.
Publication Date: November 17, 2023

Publisher: Moyga Books

Price: $30.99 (Hardcover) and $17.99 (Paperback)

Available at: Amazon, Barnes & Noble, Powell's
About Ganpy Nataraj:

Ganpy Nataraj is an entrepreneur and author based in Novi, Michigan. From crafting evocative short stories to regularly sharing his insights on various topics through his blog posts, he is no stranger to the world of words. He now unveils his debut novel, TEXIT – A Star Alone, a gripping political thriller.
Publisher Information:

Moyga Books is a dynamic and forward-thinking media company, passionate about the art of storytelling in its many forms. While our roots are firmly planted in the world of book publishing, we're a company driven by innovation and a thirst for exploration in the vast landscape of media and entertainment.
For additional information, review copies or media inquiries, please contact:
Nataraj Ganapathy

Moyga Books

[email protected]

www.moygabooks.com
Nataraj Ganapathy
Moyga Books
email us here
Visit us on social media:
Facebook
Twitter
YouTube
TikTok
Book Teaser


Originally published at https://www.einpresswire.com/article/668871416/ganpy-nataraj-s-political-thriller-texit-a-star-alone-takes-readers-on-a-ride-through-a-complex-political-landscape