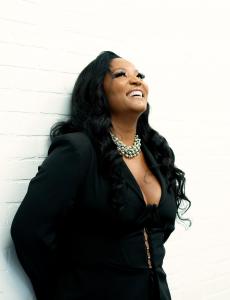 Famiglia Doro TV Celebrates Humanitarian & Philanthropist Dr. Trisha Bailey on National Philanthropy Day. She impacts the lives of thousands.
Titaness Billionaire Business Woman Dr. Trisha Bailey sits down with "Lady Let Your Hair Down Host," Yvonne Renee Davivs
Unbroken: The Triumphant Story of a Woman's Journey can be purchased on Amazon or Audible
On National Philanthropist Day, Famiglia Doro TV Celebrates Amazon's Unbroken Author Dr. Trisha Bailey for Her Humanitarian Work Impacting Thousands of Lives!
Dr. Trisha Bailey's "Unbroken" Reminiscence recounts many traumatic experiences that shaped her into becoming one of the most powerful women in the world. Her darkness-to-light story inspires ALL!"
— Yvonne Renee Davis, Host of "Lady Let Your Hair Down."
HARTFORD, CT, USA, November 15, 2023 /EINPresswire.com/ — Famiglia Doro (Golden Family), TV the world's first independent economic development OTT digital & live streaming platform celebrates Billionaire Business Titaness and Humanitarian Dr. Trisha Bailey on National Philanthropy Day. Dr. Bailey, a best-selling Amazon Author of UNBROKEN: The Triumphant Story of A Woman's Journey debuts on "Lady Let Your Hair Down."
Hosted on Amazon Fire, ROKU, Apple TV, iOS, Android, Samsung TV, and LG TV, with access to more than 300 million subscribers and on 350 social media platforms, Dr. Bailey candidly talks about her trials, tribulations, trauma, and triumphs. She chronicles her life in a highly self-reflective and riveting autobiography. From an impoverished untouched natural beauty countryside of St. Elizabeth's Parish in Jamaica to struggling through the transition from growing up in a naïve Caribbean Culture and experiencing culture shock in America, she adjusted to an unkind traumatic inner-city experience in Hartford, Connecticut.
Dr. Bailey's "Unbroken" Reminiscence recounts her stepfather's sexual abuse, intimate partner violence (IPV), suicide attempt, and near-death experience. She was arrested and spent a short time in jail. All of these experiences while climbing her way to the top of the heap financially while experiencing toxic loves through trial and error, she learned about loving herself and healing. These moments eventually lead her to the love of her life. Her experiences shaped her into who she is today – one of the most powerful businesswomen in the world. A proud Mommy of five and her first priority, Dr. Bailey accomplishes great success with a focused formula for all readers to overcome and win all the time via her stoicism, grace, faith, and lemons to lemonade financial fortune.
Understanding the value of a dollar and the importance of saving money at a very young age to earn a wealthy lifestyle, she has built relationships with some of the most powerful people in the world. Dr. Bailey's heartstrings are forever pulled giving away millions of dollars to individuals and causes that have changed the quality of life for tens of thousands; her gifts of giving keep hope alive.
Recognizing Dr. Bailey for her time, treasures, and talents on National Philanthropy Day, November 15, has come in the form of scholarships for nearly 300 students in the Caribbean and the United States through her Bailey-Archie's Charitable Foundation. In 2022, Dr. Bailey gave the largest athletic donation in the history of the University of Connecticut. Dr. Bailey's $10-million cash gift will bear her name on an 80,000-square-foot training center for UCONN's six Olympic Sports programs. Back in 2000, Dr. Bailey donated $500,000 to save the men's and women's track programs.
She remembered her track scholarship to UCONN earned in 1995 as well as the grace she received when she felt she did not deserve to be there with poor SAT scores and moments of youthful indiscretion, this school still bet on Bailey investing and believing in her – she paid it forward to them with her donations. Her other philanthropic endeavors in her home state of Florida, include giving $10 million for food distribution, investing in youth education, single mothers, and more.
A brilliant mind on money matters, negotiation, and business, Dr. Bailey fearlessly built an empire of 35 businesses in the medical equipment/supplies, pharmacy, and commercial real estate industries. She has expanded the definition of philanthropy with a confident and humble demeanor. She credits her belief in a Higher Power/God with a heart of forgiveness and a compassionate loving soul.
Established in 2022, Famiglia Doro TV debuts in forty-eight states, Latin America, and Africa, Dr. Trisha Bailey's visit on "Lady Let Your Hair Down" will be a sheer inspiration for anyone who needs encouragement – a light after darkness for those who read this book have hit a bottom. Dr. Bailey gives the reader of her book a blueprint for financial success.
Download the Famiglia Doro TV app to watch Dr. Trisha Bailey's exclusive interview hosted by Yvonne Renee Davis. To purchase Unbroken: The Triumphant Story of a Woman's Journey, visit Amazon Books or download it on Audible.
Log on https://www.famigliadorotv.com to register and download the app to become a part of a televised revolution. Famiglia Doro TV is created for the world!
Yvonne Renee Davis
Famiglia D'Oro TV
+1 844-482-4678
[email protected]
Visit us on social media:
Facebook
Originally published at https://www.einpresswire.com/article/668543290/famiglia-doro-tv-1st-global-economic-dev-ott-platform-debuts-lady-let-your-hair-down-with-titaness-dr-trisha-bailey