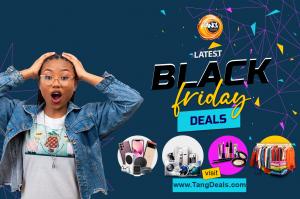 To help people live a sophisticated lifestyle affordably"
— Tang Deals
AMES, LOWA, UNITED STATES , November 15, 2023 /EINPresswire.com/ — As the highly anticipated Black Friday approaches, shoppers can look forward to an array of incredible deals and discounts. This annual shopping extravaganza is renowned for its unbeatable offers and limited-time promotions.
Retailers across the nation are gearing up to provide customers with substantial savings on a wide range of products. From electronics and home appliances to fashion and beauty, there will be no shortage of enticing deals to enthrall shoppers. Whether you're in search of the latest gadgets, fashionable apparel, or household essentials, Black Friday is the perfect opportunity to score fantastic discounts.
To help make the most of this highly anticipated event, several tips will enable a shopper to maximize savings and make good purchasing decisions for the best Black Friday Deals in 2023.
1. Plan Ahead: Take some time to research and create a shopping strategy by identifying the specific items needed or want to purchase.
2. Compare Prices: Before Black Friday arrives, compare prices of products across different retailers to ensure you are getting the best deal.
3. Set a Budget: Determine a budget in advance to avoid overspending during the frenzy of Black Friday. Stick to a budget to make sure you stay financially responsible while enjoying the savings.
4. Stay Informed: Follow favorite retailers on social media, sign up for newsletters, or visit websites like Tang Deals to stay updated on the latest deals, discounts, and promotions they will be offering.
5. Shop Early or Late: Consider starting shopping early in the morning or late in the evening to beat the crowds and increase the chances of finding the items you want.
Remember, Black Friday is a time of incredible sales and extraordinary opportunities to save money. By following these tips above, one will be well-prepared to navigate the shopping frenzy and make the most of the Black Friday deals.
About Tang Deals: Tang Deals is a student-based website whereby a group of students from different universities came up with an idea on how to get the most affordable DEALS from different stores all over in one place without hassle with a mission to make it easier than ever for shoppers to get the best deals on discounted products. Our goal is "to help people live a sophisticated lifestyle affordably".
Melissa Abigail
Tang Deals
[email protected]
Visit us on social media:
Facebook
Twitter
Instagram
TikTok


Originally published at https://www.einpresswire.com/article/668634181/what-to-expect-on-black-friday-2023