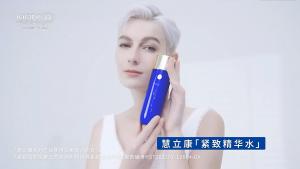 GUANGZHOU, CHINA, November 7, 2023 /EINPresswire.com/ — In an era where consumer awareness is shifting towards organic and scientifically-backed products, one brand is rising above the noise, poised to change the skincare landscape forever. HuilikangLux, the brainchild of Guangzhou Changshui Biotechnology Co., Ltd. from China, is redefining the way we perceive skincare, thanks to its scientific innovation and ethos deeply rooted in cultural values.
The world first took notice of HuilikangLux's earnest dedication to effective, genuine skincare through a feature by a prominent central media outlet in China, renowned for its authoritative voice in broadcasting. This media coverage, part of a documentary series titled "Craftsmanship and Intelligent Manufacturing," shone a light on the passionate endeavors of Chief Technical Advisor Mr. Fan Guogang. Mr. Fan, with his forward-thinking approach, has carved a niche as a visionary in the skincare industry.
Saddened by the rising prevalence of "hormone face" and skin allergies due to the misuse of skincare products, the founding team of HuilikangLux embarked on a journey to create a range of skincare solutions that target the root causes. Backed by the formidable financial and biomedical resources of its parent company, HuilikangLux has assembled an interdisciplinary research team in collaboration with both domestic and international dermatological experts and the Chinese Academy of Sciences' South China Botanical Institute.
In Guangzhou, the core of HuilikangLux operates from a high-standard production base that captures the essence of the brand's dedication to both technology and craftsmanship. Far from being just a hub of machinery, the facility is a balanced environment where state-of-the-art technology and meticulous artisanship co-exist.
The laboratories adhere strictly to GMPC regulations, ensuring a level of quality that sets an industry standard. But it's not just about compliance; it's about setting a higher bar. Here, skilled scientists and artisans work together, applying rigorous testing and quality control measures that go beyond the conventional metrics.
In essence, HuilikangLux's production base is more than just a facility; it's a carefully orchestrated space where each product is crafted to be not only effective but truly transformative. It is this harmonious blend of technology and craftsmanship that ensures the brand delivers on its promise of holistic beauty.

HuilikangLux's product line comprises nearly 20 offerings, including toning essences, cleansing milks, face creams, and cleansing gels. What sets them apart is their commitment to research in dermatology and cell biology. Utilizing microcapsule slow-release technology, these products feature molecules as small as 0.02 micrometers, enabling the active ingredients to penetrate deep into the skin, repairing layer by layer.
Of special note are two star products that have caused quite a sensation online. The first is HuilikangLux Firming Toning Essence, a magical elixir that marries a variety of scientifically measured ingredients to deliver long-lasting hydration and firmness. The second, HuilikangLux Firming Essence Cream, targets dry and aged skin, enriching it with a formula that counters light and oxidative damage. Both have been endorsed by leading beauty influencers, reflecting their high repurchase rates.
While the brand's research and development prowess is already setting industry benchmarks, its members still maintain deep collaborations with various research institutions both domestically and internationally. This proactive approach ensures the brand and its products continue to stay ahead in the competitive market.
With an expansive retail network that spans both online and offline platforms, and a customer service team that's nothing short of meticulous, HuilikangLux is solidifying its status as the go-to brand for scientifically-proven skincare.
Looking ahead, HuilikangLux remains guided by the brand philosophy of "Sharing, Responsibility, Globalization," aiming to disseminate their scientific approach to skincare to a broader audience. The goal is simple yet profound: to make people beautiful from the inside out, in the most healthy and effective way possible.
So, the next time you think about skincare, remember that HuilikangLux isn't just another brand; it's a scientific revolution aimed to serve you better, proving once again why it's touted as the "Huawei of Skincare."
And perhaps, unbeknownst to you, you're already under its transformative spell.
Welcome to contact us on our official website:

www.changshui-hlk.com
HuilikangLux
Guangzhou Changshui Biotechnology Co., Ltd.
email us here
Originally published at https://www.einpresswire.com/article/666554619/the-huawei-of-skincare-how-huilikanglux-is-advancing-beauty-through-advanced-science