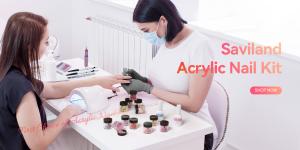 GUANGZHOU, CHINA, November 14, 2023 /EINPresswire.com/ — In the dynamic world of beauty and personal care, SAVILAND has established itself as a notable presence in nail art since its inception in the United States in 2016. Known for its hand and foot care products, the brand differentiates itself through an approach that combines innovation with a strong emphasis on quality. A key aspect of its success is the renowned "S Laboratory," which melds global cultural research with advanced scientific methods. This unique approach results in products that are not only functional but also reflective of global beauty trends.
Comprehensive Solutions: The Saviland Acrylic Nail Kit

The Saviland Acrylic Nail Kit is recognized for its comprehensive offering in the field of nail art. This kit, designed for enthusiasts of nail art, includes a range of products necessary for creating acrylic nails. The formulation of the kit is noted for its inclusion of quality ingredients and an EMA liquid monomer that is designed to be user-friendly. This combination is developed to provide a smooth application process and results that are enduring, suitable for a variety of users, from beginners to seasoned nail technicians.
Diverse, Lasting, and Professional Results

The Saviland Acrylic Nail Kit is designed to offer a diverse array of colors and finishes, accommodating a wide range of styles from understated to bold. The durability of the acrylic nails created with this kit is a significant feature, offering resistance to daily wear. This durability ensures that the nails maintain their aesthetic appeal over time. Additionally, the kit is capable of delivering professional-level results, enabling users to achieve salon-quality nails independently.
Commitment to Quality and Safety

SAVILAND continues to distinguish itself in the nail art industry through a consistent focus on quality, safety, and customer satisfaction. The brand's ethos, reflected in its unique product range, positions it as a leader in beauty and personal care. The Saviland Acrylic Nail Kit, as a product of this brand, embodies these values, combining style and safety.
Global Reach and Advancing Design

SAVILAND's journey is characterized by continuous innovation, drawing inspiration from the natural world and prevailing global trends. This approach is evident in the brand's products, which blend artistic elements with nature-inspired designs. Innovations such as the one-step glue pen and color crystal extension glue demonstrate SAVILAND's commitment to introducing novel solutions in nail art.
SAVILAND's Offerings for the Upcoming Shopping Season

As the 2023 Black Friday and Cyber Monday approach, SAVILAND is preparing to introduce significant discounts, providing attractive offers for this shopping season. These promotions are part of the brand's efforts to offer value to its customers during a key period for retail.
SAVILAND
Guangzhou Saviland Network Technology Co., Ltd.
email us here
Originally published at https://www.einpresswire.com/article/668091791/saviland-advancing-in-nail-art-with-style-and-safety