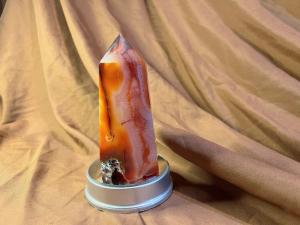 Mystic Healing Stones, the beloved boutique of enchanting crystals and gemstones,announces the grand opening of its online store at www.mystichealingstones.com.
MINNEAPOLIS, MN, UNITED STATES, November 8, 2023 /EINPresswire.com/ — Mystic Healing Stones, the beloved boutique celebrated for its enchanting collection of crystals and gemstones, is thrilled to announce the grand opening of its online store at www.mystichealingstones.com. This expansion comes after a summer of connecting with locals and sharing the magic of crystals at the West Side Farmers Market, followed by a warm welcome at the Minneapolis Black Market.
The new e-commerce platform offers a mesmerizing selection of beautiful stones from countries like Pakistan, India, and China. Each crystal and gemstone in the collection has been meticulously chosen not just for its visual appeal, but for the unique energy and qualities it carries. Upholding ethical sourcing principles and a dedication to community initiatives, the company now invites a global audience to explore a collection steeped in ancient reverence and modern responsibility.
Recognizing the significance attributed to gemstones across various cultures, Mystic Healing Stones offers a catalog that not only presents a visual and tactile appeal but also reflects the historical and cultural importance of these minerals. For centuries, civilizations have cherished gemstones for their beauty and purported properties, integrating them into wellness practices, artistic expressions, and rituals. https://digitalcommons.unl.edu/cgi/viewcontent.cgi?article=1039&context=historydiss .The online store provides an educational resource, sharing the stories and uses of gemstones across different societies.
Mystic Healing Stones is more than just a shop; it's a journey into the heart of nature's own art gallery, a place where beauty and peace intertwine. The online store is a testament to our commitment to bring the wonder of these natural treasures to a wider audience, offering a sanctuary for those seeking balance, beauty, and a touch of the mystic in their lives."
The website features an array of handpicked stones, from the serene, luminous white of carved selenite, to the vibrant blues of Caribbean calcite, each with its own story. The user-friendly online experience allows customers to explore the wonders of crystals, learn about their properties, and find the perfect piece that resonates with their individual needs and aesthetic preferences.
In keeping with their community-focused ethos, Mystic Healing Stones continues to connect with the local community through pop-up shops and events, bringing the tactile experience of selecting the perfect stone to those who prefer an in-person connection.
The staff has cherished moments with the community in Minnesota and are incredibly excited to work with the global community. No matter where a client is, the perfect crystal is just a click away.
During the holiday season, Mystic Healing Stones will be at The Minneapolis Black Market, The World Oddities Expo, and the Minnesota Bridal & Wedding Expo.
To celebrate the launch, Mystic Healing Stones is offering an exclusive online discount to their first-time visitors, inviting everyone to find their personal piece of serenity and empowerment. Enter code GRANDOPENING to save 10% off.
For more information about Mystic Healing Stones and to view the online collection, please visit www.mystichealingstones.com.
About Mystic Healing Stones
Mystic Healing Stones is an online and community-based retailer specializing in high-quality crystals and gemstones. Founded on the belief that every stone holds a unique energy and story, the company is dedicated to bringing these natural wonders to customers worldwide. With a focus on elegance, energy, and handpicked variety, Mystic Healing Stones is not just a brand; it's a destination for those in pursuit of balance, beauty, and a touch of the extraordinary.
Contact Information:
Public Relations Manager

Mystic Healing Stones

Email: [email protected]

Website: www.mystichealingstones.com
Ini Augustine
Mystic Healing Stones
email us here
Visit us on social media:
Instagram
Moss Agate Obelisk Tower


Originally published at https://www.einpresswire.com/article/666974523/mystic-healing-stones-unveils-an-online-sanctuary-for-crystal-enthusiasts-and-gift-seekers