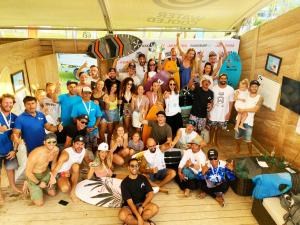 Challenging traditional wellness, MyTribeX introduces a blend of wellness retreats, mental and physical well-being, set in the world's best destinations
Each My Tribe X retreat is a blend of adventure and serenity, fostering mental and physical well-being. Join us for a transformative journey"
— Ala Lababidi, Founder
DUBAI, UNITED ARAB EMIRATES, November 14, 2023 /EINPresswire.com/ — My Tribe X, a unique wellness and travel movement, is redefining the wellness retreat experience by seamlessly integrating mental and physical well-being into adventure and community. These retreats, set in various picturesque locations around the world, are designed to offer participants a holistic approach to health and wellness.
Ala Lababidi, the founder of My Tribe X, explains the concept as an effort to address the growing need for comprehensive wellness solutions that cater to both mental and physical health. The retreats include a range of activities designed to promote balance and well-being, from physical exercises like yoga and hiking to mindfulness and meditation sessions aimed at enhancing mental health.
** Key Elements of My Tribe X Retreats: **
– Focus on Holistic Health: The retreats are designed to address both mental and physical aspects of health, offering a balanced approach to wellness.

– Community Building: Central to the concept is the idea of fostering a sense of community among participants, with group activities and opportunities for social engagement.

– Adventure and Exploration: The retreats include adventure activities, providing participants with opportunities to explore new environments and challenge themselves physically.

– Contribution to Local Communities: My Tribe X emphasizes the importance of positively impacting the communities in which the retreats are held, with a portion of proceeds going towards local initiatives.
Lababidi comments, "Our goal with My Tribe X is to offer an experience that goes beyond the typical wellness retreat, focusing on both individual growth and community engagement. We believe that by combining physical activities with opportunities for mental relaxation and community involvement, participants can achieve a more comprehensive sense of well-being."
** Further Information: **

For additional details on My Tribe X and its upcoming retreats, visit www.mytribex.co. The initiative is also active on Instagram, providing updates and insights into the retreat experiences at @mytribex.
** About My Tribe X: **

My Tribe X is a newly established wellness and travel initiative focusing on holistic health. It offers retreats that combine mental and physical well-being with adventure and community engagement in various global locations.es, others, and the world in a deeply significant way.
Ala Lababidi
My Tribe X
+971 58 520 0838
[email protected]
Visit us on social media:
Facebook
Instagram


Originally published at https://www.einpresswire.com/article/667643889/my-tribe-x-introduces-wellness-retreats-combining-adventure-mental-and-physical-well-being