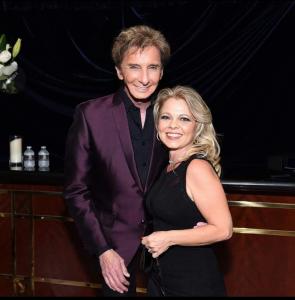 I wouldn't be the person I am today without Barry Manilow's music and the people I have met because of it."
— Gayle Nicholson
LAS VEGAS, NV, UNITED STATES, June 12, 2023/EINPresswire.com/ — A group of devoted Barry Manilow fans plan to make a true blue spectacle of themselves in front of the Westgate Las Vegas Resort on Saturday. Led by Gayle Nicholson, the group plans to sing Happy Birthday to the legendary singer on the morning of his 80th birthday. According to Nicholson, this event is the fans' way of making sure Manilow knows they are grateful for the decades of joy the singer has provided them, and for the friendships they have made because of his music.
"We want him to know we're happy he was born. It's that simple. He means a lot to each of us," said Gayle Nicholson, past Membership Coordinator for "Barryzona", the first online-based "Local" Barry Manilow Fan Club sanctioned by the Barry Manilow International Fan Club.
Founded by the late Jacqui Parent, "Barryzona's Southwest Magic" was based in Mesa, Arizona and boasted members worldwide. Monthly meetings were held in AOL chat rooms, and yearly charity drives served the Phoenix Children's Hospital with a visit from Santa (played by Jacqui's husband, Dell) each Christmas.
Five lucky fans who cannot attend the Westgate Las Vegas for Manilow's Birthday Weekend concerts will be chosen to share a space on the livestream screen. To enter, each contestant has donated to the Manilow Fund for Health and Hope in Mrs. Parent's name.
The group will gather in front of the "I (heart) Westgate" sculpture at the front entrance of the resort at 9:45 am Saturday, June 17, 2023, and plan to go live on YouTube at 10 am. The stream can be viewed at the link below:

https://www.youtube.com/live/3hhlw_0iNQc?feature=share
Manilow has been invited to be sung to in person but has not yet responded to the invitation.
Fast facts:

The first Barry Manilow album, "Barry Manilow I" was released July 7, 1973. In the nearly 50 years since, Manilow has sold over 75 million albums.
The Westgate Las Vegas Resort was once the International Hotel where Elvis Presley entertained on the same stage as Manilow does now. Manilow is expected to surpass the number of shows Elvis performed there sometime this year.
According to the Songwriter's Hall of Fame, Manilow has recorded 31 albums and has 38 Top 40 Hits.
Manilow and longtime collaborator Bruce Sussman will finally see "Harmony: A New Musical" open on Broadway this fall.
Opening night is November 13, 2023. Tickets are available now. "'Harmony' tells the tale of the most successful entertainers you've never heard of," according to Playbill Magazine.
Contact:

Gayle Nicholson

Resilience Coach & Metaphysical Practitioner

Host of "3 Crones and the Woo Woo" Podcast

Cell: 623-336-8202 (Textable)

www.GayleNicholson.com
Rob Garcia
Shift Magazine
+1 619-316-1856
[email protected]
Link to Watch Streaming Event June 17th, 10am


Originally published at https://www.einpresswire.com/article/638665412/long-time-barry-manilow-fans-to-serenade-him-on-his-80th-birthday-in-las-vegas