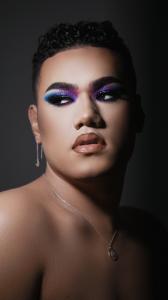 All I want to do is represent for my queer Māori community. I want to show that no matter where you're from, what race or sexuality you are, you can make it."
— Kylee Fleek
AUCKLAND, NEW ZEALAND, July 3, 2023/EINPresswire.com/ — Kylee Fleek, a 20-year-old Māori beauty entertainer from New Zealand is making waves in the digital world with his hilarious yet informative content and his inspiring personal journey. Kylee has gathered over 500,000 followers on social media, working with global beauty brands including Maybelline and Anastasia Beverly Hills.
Kylee's success did not come overnight. Since he was 10 years old, he has been mastering his craft and sharing his authentic self with the world. Growing up in the small town of Gisborne, New Zealand, Kylee fearlessly embraced his individuality, even in the face of adversity during his time at an all-boys high school. Despite facing mockery and exclusion, he never gave up on his dreams.
"All I want to do is represent for my queer Māori community. I want to show that no matter where you're from, what race or sexuality you are, you can make it," shares Kylee, whose resilience and determination have led him to become a beacon of hope for countless individuals.
Since moving to Auckland in 2020, Kylee has made some incredible achievements. His hit series 'Beginners Makeup 101' gained over 11.2 million hits on TikTok, then marching with the company for Mardi Gras in Sydney World Pride alongside stars Max Balegde and Sugar and Spice. Sephora and Maybelline have flown Kylee over to Australia to attend their events, massive brands including Colgate and YouTube have worked with Kylee, and yet so much more is to come.
Find more of Kylee at www.kyleefleekmakeup.com and on his TikTok (@kyleefleekmakeup) and Instagram (@kyleefleek) profiles.
Kylee Fleek
Kylee Fleek
[email protected]
Visit us on social media:
Instagram
YouTube
TikTok


Originally published at https://www.einpresswire.com/article/642662235/kylee-fleek-from-small-town-dreamer-to-rising-social-media-sensation