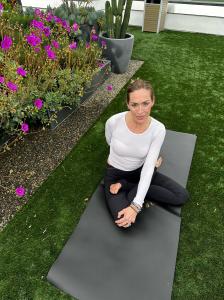 Andrea Marcum LA's Top Yoga Instructor Featured on The Happy Being Well Blog
Essential Oils Guide on The Benefits of Each Oil & How to Use Them
Happybeingwell.com features top yoga instructors across North America so customers can easily find the best instructors/wellness coaches to work with.
By featuring some of the best yoga and fitness instructors in our blog series, we aim to empower our customers with access to exceptional guidance and support for their fitness journey. "
— Rita Farruggia
UNITED STATES , August 2, 2023/EINPresswire.com/ — Happy Being Well (www.happybeingwell.com) is revolutionizing the wellness industry with its holistic approach to self-care and fitness. The online wellness store has garnered widespread acclaim for its exceptional product offerings and empowering educational resources that inspire women to take small actions every day to improve their well-being and feel better about themselves, whether it's through a rejuvenating yoga class or an invigorating hike.
Products that Promote Well-Being and Style
At Happy Being Well, customers can explore an extensive collection of high-quality products designed to enhance their self-care journeys. From ultra-comfortable leggings and supportive sports bras to eco-friendly water bottles and an array of other wellness products, Happy Being Well ensures that every aspect of one's wellness routine is met with style and functionality.
Discover Exceptional Yoga and Fitness Instructors Through the Happy Being Well Blog Series
In addition to offering top-notch products, Happy Being Well goes above and beyond by providing free resources to its community. One such resource is the Yoga and Fitness Instructor Blog Series, where the online wellness store features exceptional yoga and fitness instructors from different regions. across North America. Rita Farruggia, Founder and CEO of Happy Being Well states, "At Happy Being Well, we believe that personal growth and well-being go hand in hand. By featuring some of the best yoga and fitness instructors in our blog series, we aim to empower our customers with access to exceptional guidance and support for their fitness journey. Whether it's through one-on-one sessions online or offline, we want to inspire individuals to find their inner strength and achieve their workout goals with the guidance of these remarkable instructors." Here are some of the remarkable instructors showcased in the blog series:
Ashley Cummings – Yoga Instructor in Los Angeles, Ashley Cummings is a highly sought-after yoga instructor in Los Angeles, known for her dynamic and energetic teaching style that motivates students to push their boundaries and unlock their potential while focusing on their breath.
Andrea Marcum – Yoga Instructor in LA Andrea Marcum's yoga classes in LA are celebrated for their focus on alignment and breath, helping students cultivate a deeper connection with their bodies and minds.
Tamara Fayad – Fort Lauderdale Yoga Instructor, Tamara Fayad is a highly acclaimed yoga instructor in Fort Lauderdale, known for her captivating teaching style that combines mindfulness and strength-building techniques. Her passion for guiding students on their yoga journey shines through in every class.
Megan Gathers – San Francisco Yoga Instructor, Megan Gathers has garnered a reputation as an exceptional yoga instructor in San Francisco, emphasizing the mind-body connection and promoting a sense of balance and harmony in her classes.
Carmelle Jean-Francois – Fitness Trainer based in the New York area Carmelle Jean-Francois, a fitness trainer based in New York, inspires individuals to reach their fitness goals through tailored workout routines and expert guidance.
Nanci Reed – Pilates Instructor in the San Francisco Bay Area, Nanci Reed's expertise as a Pilates instructor in the San Francisco Bay Area allows her students to build core strength, flexibility, and overall body awareness.
Kalea Cleeton – San Francisco Yoga Instructor, Kalea Cleeton's yoga classes in San Francisco emphasize grounding and mindfulness, encouraging students to find inner peace and strength through their practice.
Empowering Readers with Free Wellness and Personal Development E-Books
Happy Being Well takes its commitment to holistic wellness a step further by offering free e-books on its website. These e-books cover a wide range of topics, including plant-based recipes, essential oils guide, meditation made easy, self-care journal, and much more. Each e-book is a valuable resource to empower readers in different aspects of their personal development and well-being journey. Rita Farruggia, Founder and CEO of Happy Being Well states, "At Happy Being Well, we are committed to nurturing the well-being of our community beyond just our product offerings. That's why we are delighted to provide free personal development and wellness e-books to our customers. We believe that knowledge is the foundation of growth, and these e-books serve as valuable resources to empower individuals in their self-care journey. Our goal is to make holistic wellness accessible to all and support our customers in their pursuit of a happier and healthier life."
Some of the e-books available include:
"Plant-Based Recipes for a Nourished Life": Provides readers with delicious and nutritious plant-based recipes to enhance their dietary choices and overall health.
"Essential Oils Guide: Aromatherapy for Mind and Body": Offers insights into the healing properties of essential oils and how they can be used to promote relaxation and well-being.
"Meditation Made Easy: A Beginner's Guide to Inner Peace": Helps readers establish a consistent meditation practice to reduce stress and foster mental clarity.
"Self-Care Journal: Cultivate a Daily Practice of Self-Love": Encourages individuals to prioritize self-care and mindfulness through journaling exercises.
"Banish Imposter Syndrome and Embrace Your Confidence": Empowers readers to overcome imposter syndrome and embrace their true capabilities and worth.
"Remove Limiting Beliefs and Unlock Your Full Potential": Guides individuals in identifying and overcoming self-limiting beliefs to reach new heights in their personal growth.
"Wellness for Winners: Strategies for a Healthier Lifestyle": Provides practical tips and strategies to achieve a balanced and healthy lifestyle.
Happy Being Well invites everyone to explore these empowering e-books, each offering valuable knowledge and actionable steps to transform their lives positively.
About Happy Being Well:
Happy Being Well (www.happybeingwell.com) is a renowned online wellness store dedicated to empowering individuals with top-notch wellness products such as must-have leggings, sports bras, unique water bottles, natural facial masks, natural candles, natural bath soaps, natural essential oils, aromatherapy diffusers, natural deodorants, crystals and much more wellness items. Happybeingwell.com is happy to provide free educational resources for your self-care and fitness journey. Happybeingwell.com takes pride in promoting a holistic approach to well-being, inspiring women to take small actions every day that lead to significant improvements in their lives.
Rita Farruggia
Happy Being Well
email us here
Visit us on social media:
Facebook
Instagram
YouTube
Free Meditation E-Book at Happybeingwell.com in The Resources Web Page Under The Blog Section


Originally published at https://www.einpresswire.com/article/647661542/introducing-happy-being-well-the-inspiring-online-wellness-store-empowering-women-through-self-care-and-fitness