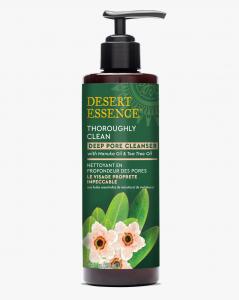 Desert Essence's trio of new products contain Manuka Oil and Tea Tree Oil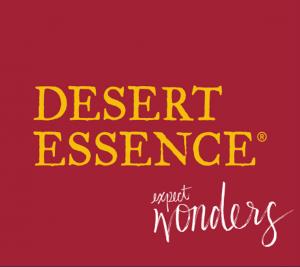 Desert Essence
Natural skincare line offers effective solutions for all skin types
Desert Essence Thoroughly Clean Deep Pore Cleanser harnesses the power of nature's finest ingredients to provide a deep, thorough cleanse while maintaining the delicate balance of the skin"
— Christine Allmer, senior director of marketing at Desert Essence
HAUPPAUGE, NY, USA, June 7, 2023/EINPresswire.com/ — Desert Essence, a leading provider of natural and sustainable personal care products, announces the newest addition to its popular "Thoroughly Clean" facial line. Desert Essence Thoroughly Clean Deep Pore Cleanser combines the soothing and moisturizing benefits of Manuka Oil and Tea Tree Oil to offer a solution that is delicate enough for sensitive skin yet powerful enough for problem skin.
Desert Essence Thoroughly Clean Deep Pore Cleanser (8.5 fl. oz. SRP $10.69) is formulated to unclog and tighten pores using pure Manuka Oil, Australian Tea Tree Oil, and Bentonite Clay. This unique blend effectively cleanses away dirt, and removes impurities, excess oil, and pollutants. Renowned for their antiseptic qualities, Australian Manuka Oil and Tea Tree Oil help balance and neutralize bacteria that contribute to blemishes and problem skin, while Bentonite Clay and Witch Hazel unclog and tighten pores for a smoother, clearer, and more radiant complexion.
"We are excited to introduce the Thoroughly Clean Deep Pore Cleanser as the newest addition to our extensive natural facial care line," says Christine Allmer, director of marketing for Desert Essence. "This product harnesses the power of nature's finest ingredients to provide a deep, thorough cleanse while maintaining the delicate balance of the skin. We are confident that consumers with all skin types will appreciate this as a gentle, effective solution to bring clarity to blemish prone skin."
Desert Essence is committed to using ingredients that are responsibly and sustainably sourced. Thoroughly Clean Deep Pore Cleanser is free from artificial dyes or fragrances, and as with all Desert Essence products, it is vegan, gluten-free, cruelty-free, and made in the USA.
Desert Essence Thoroughly Clean Deep Pore Cleanser joins the existing Thoroughly Clean lineup, which includes Thoroughly Clean Face Wash – Sea Kelp (SRP $10.69), and Thoroughly Clean Tea Tree Oil Face Wash ( 8.5 fl. oz $10.69; 32 fl. oz refill SRP $19.19).
All new products, including Thoroughly Clean Deep Pore Cleanser and recently introduced Manuka Oil and Tea Tree Oil Therapeutic Skin Ointment and Exfoliating Manuka Oil and Tea Tree Oil Soap Bar, can found at select retailers nationwide, on the Desert Essence website at www.desertessence.com, and at Amazon.
# # #
Desert Essence was founded in 1978 and is a leader in natural personal care. The company draws its inspiration and ingredients from the desert, "a model of pristine balance and sustainability, where limited resources, if used responsibly, offer the body and spirit untold benefits." Using nutrient‐rich desert botanicals revered in native cultures for their healing properties, like Tea Tree, Jojoba, Aloe, and Argan Oils, Desert Essence's body, skin, and hair care products work in harmony with the body to soothe, nurture, and restore. True to its principle, the company works to ensure that both its products and practices reflect the serious commitment it has made to the health of the planet. Desert Essence is a Certified B-corp Corporation.
SARAH Eykyn
Essenza Communications
+1 205-239-6445
email us here
Visit us on social media:
Facebook
Twitter
LinkedIn
Instagram
YouTube
The Pure Cleansing Power of Desert Essence Tea Tree Oil


Originally published at https://www.einpresswire.com/article/637750466/desert-essence-adds-new-deep-pore-cleanser-to-thoroughly-clean-facial-line